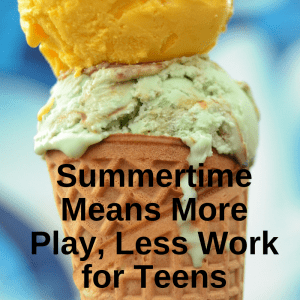 By Sarah Hamaker
A couple of months ago, Naomi, my 16-year-old, high school sophomore, just got her first job—scooping ice cream at a local independent ice cream parlor. She's already realized working is hard, well, work, but she likes her co-workers and has big plans for her paychecks, including saving for the future and giving to charity.
While a couple of her friends also have part-time jobs, most of her fellow high schoolers seem to have little interest in regular, part-time work. "Fewer teens are getting jobs in the summer because they are prioritizing different things," said Adina Mahalli, a certified family care professional with Maple Holistics. "The goal is no longer to make money, but to look good for colleges, and to spend the time lounging around with friends or traveling."
The U.S. Bureau of Labor Statistics reported that from April to July 2018, the number of employed youth 16 to 24 years old increased by 2.0 million to 20.9 million. While that's a slight uptick, it's essentially the same percentage of young people who were employed in July 2017 (55%). July is typically the peak of summertime youth employment.
But those statistics don't tell the entire story. Pew Research analyzed data from the U.S. Bureau of Labor Statistics to find that the share of teens with summer jobs has plummeted since the turn of the 21st century. In 2018, around 35% of teens had a summer job.
Historically, from the late 1940s through the 1980s, teen summer employment had a predictable pattern: growing during strong economies and falling during recessions. The numbers of employed teens hit a low point in 1963 (46%) and a high point in 1978 (58%). The decline of summer jobs is a specific instance of the longer-term decline in overall youth employment, a trend that's also been observed in other advanced economies.
"Fewer teens are getting jobs because fewer teens need the money that comes with employment," said Patti Barnes, a writer, influencer and digital journalist. "This is because a significant shift has taken place in the thinking of parents [away from considering] a job as an important step towards earning about responsibility and the value of hard work."
Not working during the summer would have been foreign to me and many of my fellow Gen Xers. I had a daily afternoon paper route throughout high school and a full-time job at a local pizza restaurant after high school graduation. My husband worked at a local movie theater during many of his high school summers, and friends tell similar stories of work at rather boring, minimum wage jobs.
While a couple of her friends also have part-time jobs, most of her fellow high schoolers seem to have little interest in regular, part-time work.
"I think the main reason today's teens are not getting jobs is because they are largely over-extended in other areas," pointed out Joann Elliott, a licensed professional counselor with College Counseling Tutoring. "Activities like year-round sports, summer school, volunteering and time with family often cut into a teen's busy schedule and leave little time for a long-term commitment like a job. … Sometimes it's the parents who don't want their teen to get a job [because they want their child to focus on schoolwork]."
Job Benefits
In the quest for the perfect resume for college applications, parents and teens often overlook what jobs provide. "The benefits of working besides a paycheck are the development of problem solving skills, collaboration skills, communication skills and being introduced to a diverse population," said Steve Larosiliere, founder of Stoked, a national youth mentoring nonprofit. "Teens who work can add the experience to their resume and give them a language and skill set to have the confidence to succeed in the future. Also, teens who get jobs are more likely to get jobs as adults."
Working in retail environments also give teens insight into their fellow human beings—both the good and the ugly. "Teens learn interpersonal skills, and how to get along with both the employers and members of the public and customers," Barnes said. This both gives teens training ground for learning how to navigate sticky situations but also can give them an appreciation for their fellow retail and restaurant workers.
Much like learning how to clean and cook, having a job can increase a teen's sense of self and confidence. "It can help them improve self-esteem," said Sabrina Bowen, licensed marriage and family therapist. "In addition, if they find a job in the field they want to work in, it can train them for their goal job."
Summer jobs also can look good on a college application. "Giving up your 'summer break' and working shows a lot about one's character. If you spend your summer working at a fast-food restaurant, it will probably make you stand out amongst a group that did academic enrichment camps," said Mahalli.
In addition, having a job also gives teens experience in time and money management—two areas that most of us could use a little extra help. "Summer jobs help students prepare for the many demands later in life that require juggling several things at once," said Elliott. "Students who earn their money have much more respect for it. They understand what it takes to earn a dollar and are less apt to spend freely."
Job Preparation
Parents can play a key role in helping teens and young adults prepare for the workforce, whether it's part-time summer jobs or full-time career work. "Parents can help prepare their teens by bringing them to work to show them what their workplace looks like," said Larosiliere. "They can take them on different tours of other families and friends to see what different work environments look like."
Before Naomi went on her first interview, we went over how she could respond to typical questions from a potential employer. She felt more confident in answering questions after our discussion. "Teach social and professional manners (e.g. handshake, pleasantries) and expected behaviors during interviews and on-the-job," said Bowen.
Offer guidance as to what to wear both for an interview and job (if a uniform is not required). Also, help them with the little things, like making sure they eat a good meal before a shift and are able to catch up on sleep when working late. "Help them learn how to schedule and balance priorities too, as this is a learned skill teens may not intuitively know how to do, such as balancing homework with working one evening or on the weekend," Elliott said.
Job Hunting
When Naomi started talking about wanting a job, she quickly realized the limitations of where she could potentially work, given her age and lack of previous work experience. Swimming pools, summer children's camps, retail shops and restaurants headed the list of places that typically hire teens. "Nearly 2.1 million of the estimated 6.2 million teens who were employed last July (33.8%) worked in 'accommodation and food services' (restaurants, hotels and the like) compared with 1.9 million (22.6%) in July 2000," according to the Bureau of Labor Statistics.
While it's okay for parents to suggest potential work places, it's important for teens to figure out where and how to apply for specific openings. "Do your research. Find a place you want to work, learn everything about it and the types of opportunities," Larosiliere said.
Elliott recommended teens talk with people they know—family, friends, neighbors, etc.—as potential resources for jobs. "Also, get dressed up and go in person to the store or restaurant. Most employers who hire teens will hire someone they see as punctual, responsible and mature," she said, adding that teens should follow up once they've applied too.
Teens should also maintain realistic expectations. "You are just entering the job market and are competing against people who may have more experience than you," said Mahalli. "You won't be able to get the most exclusive, high-profile job from the beginning. You need to get a bunch of smaller scale jobs to finally land a big one. Be happy with whatever you get hired for because whatever it is, it will help you reach your goals."
So far, Naomi has largely enjoyed scooping ice cream, a job she was delighted to get because "ice cream makes people happy." Her experience has her siblings looking forward to the day when they, too, can have a part-time job.