Did we really need a study to tell us that kids crave more bonding time with their families? Probably not, but the statistics uncovered by OnePoll in a Red Robin (yes, the burger chain) commissioned study found that 73% of American kids would like more opportunities to bond with their family.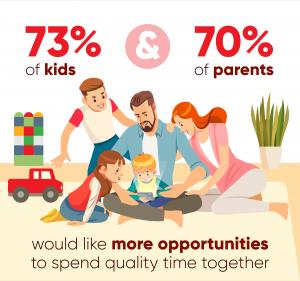 Parents also want more time with the kids, with 70% saying they don't spend enough quality time together. What's even more helpful, the survey also asked what activities children want to do more with their folks. Not surprising, spending the day at the beach, playing sports in the yard and taking a day trip to a museum or amusement park topped the list of family outings, but playing games or eating out also made the list.
In good news for parents, the majority of children surveyed consider their family to be close (90 %), with more than half of those (56%) specifying a "very close" bond. That shows that even though 34% of children don't think their parents understand what it's like to be a kid today, it doesn't affect the strength of their family connections.
The survey looked beyond the activities children wanted to do more with their parents, and also looked to find the adults' perspective. While parents enjoy activities like hiking, helping with homework and playing games with their children, it all comes down to "anything where [their children] are enjoying themselves and laughing."
TOP 20 ACTIVITIES KIDS MOST WANT TO DO WITH THEIR PARENTS
Go to the beach
Exercise
Play sports
Go to the pool
Go to the movies
Play at a park
Camp
Take a day trip (zoo, museum, amusement park, etc.)
Play video games
Go shopping
Go out to dinner together
Hike
Go to an event (sporting event, concert, etc.)
Spend time together in the car (driving to school, appointments, extracurriculars, etc.)
Watch movies at home
Make a meal together
Eat meals together at home
Play board games/card games
Create arts and crafts
Have them help with homework/schoolwork
TOP 10 ACTIVITIES QUALITY-TIME PARENTS DO WITH THEIR CHILDREN
Eat meals together at home
Help their children with homework/schoolwork
Watch movies at home
Bath time/getting ready for bed
Make a meal together
Read bedtime stories
Go out to dinner together
Go shopping
Play video games
Driving their children around (to/from school, appointments, etc.)