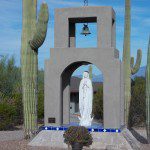 Let's say you are seriously considering the time and money commitment to a formation and training program that prepares you to become a spiritual director. What should you be looking for? While most spiritual direction training programs teach a method that is more evocative than directive, they do not all teach it in the same way. Here are some key elements to look for:
A program that stresses the contemplative nature of spiritual direction. If it's not rooted in the contemplative tradition that honors silence, waiting and gentle exploration, then it could be a program that has a particular agenda (Evangelism? Discipleship? Coaching?). That wouldn't make it a bad program, but those categories are not spiritual direction. Delve deep into what the program is really about before you make the commitment.
 A program that includes a fair amount of practical experience in doing spiritual direction. You want to learn the art of spiritual direction by doing it under the watchful eye of a teacher or supervisor. It does little good for programs to send participants off in pairs to do spiritual direction with one another with no one around to watch what is going on. Look for programs that have strong practicums that allow each participant to serve as a spiritual director in a real session (not role playing) with a teacher or other members of the small group viewing the session. Talking about what happened in the session is hard work but good teachers know how to speak the truth in love. If you only do spiritual direction with your peers,  without a teacher supervising, it's likely you haven't been told the full truth about how you came across as a spiritual director. You need that information before you strike out on your own and start taking directees.
 A program that is likely to be around in a few years. Sadly, many programs just don't make it even though their structure is such that it takes two years or more to get a certificate of completion.  It is difficult to start one program and then have to re-start another because your first choice went under. Investigate the history of the program you are interested in. Talk to the director of the program and find out if they have a refund option in the event of cancellation. Have they ever cancelled a program? Talk to graduates as well. The training program you choose should be a resource for you even after you graduate.
 A program that fits your personality. If you want a program that stresses Ignatian spirituality then you don't go to a Zen retreat house, you find one rooted in Ignatius' spiritual exercises. If desert spirituality is what calls to you, then find a program rooted in a desert. To find what fits for you, make a lot of phone calls to the directors of programs. Tell them a bit about yourself and ask questions about any aspect of formation that concerns you.
Finding the right program for yourself is all part of the discernment process as you consider "am I called to do spiritual direction?"
For more about spiritual direction as I practice it, check out my website. If you have questions or comments about the content of Spiritual Direction 101, please let me hear from you in the reply section below.