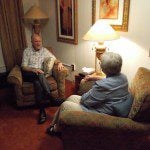 We need healthy religious and spiritual leaders in our faith communities–bright, energetic ministers who embody joy and compassion and know when and how to draw appropriate boundaries. A new book due out this fall, Sacred Habits: The Rise of the Creative Clergy by Chad R. Abbott addresses a number of ways clergy can lead more balanced and healthy lives. It includes a chapter I wrote on spiritual direction for clergy and today's blog entry is an abridged version of that chapter.
The reality is many pastors, priests, rabbis and religious educators cope with situations that leave them drained and dry. And the very people they might feel close to and want to share their concerns with—parishioners—are the ones that, for ethical reasons, they never should share their concerns with.
This is where ongoing spiritual direction comes in. A spiritual director can hold these troubling situations and concerns confidentially and help the clergy person pay attention to what matters most in life and in ministry.
The top priority for anyone in spiritual direction is to connect more deeply with God. Spiritual direction has three basic areas of interest:  awareness of God; reflection on what that awareness means; and discernment–making choices in alignment with that understanding of God in one's life.
It is so easy to lose awareness of God when you are busy "working for God." Awareness needs to be intentional if we are to learn and grow from it, which means we need to be still now and then. How many clergy are so busy that taking time for stillness seems impossible? Spiritual direction is a monthly reminder of the moments when God's presence was keenly felt and a time to relive it in a contemplative setting.
Some typical concerns clergy bring to spiritual direction include:
Difficulties with prayer and relationship with God
A loss of motivation and passion in work
Seeking more joy in life
Balancing work responsibilities with responsibilities to family or interests outside the congregation
Emotional highs and lows of being a spiritual leader
Desire to be accountable to better self-care practices
Secrets that are causing inner turmoil
Challenges with physical health and healing
One of the most important services a spiritual director can offer a clergy person is assistance with discernment—the spiritual practice of making choices in alignment with one's faith and values for the purpose of deepening in relationship with God. Sifting and sorting through a situation, considering how the Spirit is moving in one's heart and then—at the appropriate time—making the choice and taking the action can be the material for months of direction sessions with a pastor who is experiencing distress and conflict on the job.
It's not hard to find a spiritual director with the experience and desire to work with clergy. In fact, many of us are pastors or former pastors. You can even find spiritual directors who offer a kind of turbo-charged direction for clergy (I do!) that combines care for the clergy soul plus the ability to unpack and prayerfully consider events and situations in the life of a congregation—a kind of pastoral supervision where the director and clergyperson look at where spiritual growth is budding in the midst of a difficult situation.
Originally, clergy were about the only people going to spiritual direction. Now that spiritual direction is more widely used and accepted, it's time to remind clergy—this practice is still around for you.
---
Are you interested in receiving spiritual direction? Maybe you are a clergy person who needs the "turbo-charged" spiritual direction that is designed especially for religious professionals. I have openings in my schedule for new directees—regardless of where you live. I can work by phone or Skype or if you live in the Phoenix metro area we can meet in person. Contact me at teresa@teresablythe.net  or visit www.teresablythe.net.  Also visit my website for the Phoenix Center for Spiritual Direction.
Photo by Teresa Blythe