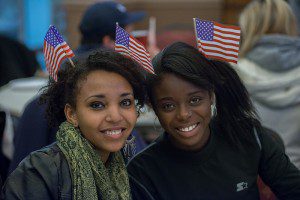 For highly sensitive people like me, news in the fall of a presidential election year feels like a sharp and constant hammer to the head. The harsh rhetoric, the reality of the deep division between those on the left and those on the right, the way every single emotion-evoking event is turned into a partisan issue—it's enough to make me want to run to the nearest sensory deprivation tank.
News events, election coverage and strong feelings about the presidential race find their way into spiritual direction. If we are invited to "find God in all things," as Ignatius of Loyola taught, then we are invited to find God as history is being made—in the events of our day.
In order to be helpful spiritual directors or spiritual friends, we need to listen carefully and without judgment as they process all that is going on. That is why I'm reluctant to say much—in any public forum—about how I feel about the candidates and the process. Spiritual direction is not the place for directors to share on certain subjects, such as this election (although I sheepishly admit to some slipping on that, especially if someone asks). What's more important than what directors think is how directees are offered the opportunity to explore their feelings and approach voting as an important spiritual practice.
It's vital that we see our vote as the outcome of a prayerful discernment. Facts, perceptions, beliefs and ideologies all belong in spiritual discernment. If you are not yet praying or reflecting deeply about how you will vote in the upcoming election, I hope you begin right now.
That discernment may include setting boundaries around your consumption of news. If TV news and televised debates make you anxious, consider if there are other ways to get the information you need. I know I'm going to limit my intake of news and commentary for a season. I refuse to watch any of the debates live. That may sound like heresy to some, but I choose to read about them after they are over when I can digest the information (and after fact-checkers have done their work). I refuse to sit in front of a screen, wound up and angry, as the rivals go after each other.
There are only so many things in life that we as individuals can control. We can control who we vote for. We can't control outcomes. We can control how much news we consume. We can't control how the news media covers the election.
Ask yourself, "How much of this do I really need to see or listen to?" We get to make that determination. Highly sensitive people unite! Exercise your power to say "enough!"
---
Are you interested in being in spiritual direction? I have openings in my schedule for new directees—regardless of where you live. I can work by phone or Skype or if you live in the Phoenix metro area we can meet in person. Contact me at teresa@teresablythe.net  or visit www.teresablythe.net.  Also visit my website for the Phoenix Center for Spiritual Direction.
Photo credit: <a href="https://www.flickr.com/photos/26254305@N08/8200426254/">roanokecollege</a> via <a href="http://foter.com/">Foter.com</a> / <a href="http://creativecommons.org/licenses/by/2.0/">CC BY</a>