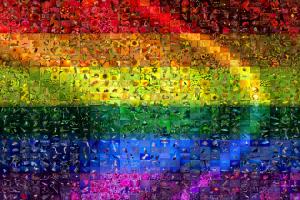 Evangelical Christian leaders who refuse to accept LBGTQIA+ persons as they are recently released their treatise on sexuality and gender, called The Nashville Statement (and did so during the worst hurricane in the nation's history for who-knows-what reason). I'm not linking to this hurtful document—if you want to read it you can google it—and I have a few points to make about why I believe spiritual direction should always be a place of radical welcome to gender and sexual minorities (GSM).
Some spiritual directors shy away from taking a stand on controversial issues that divide left-wing from right-wing Christians. They contend it's a political subject and they want to stay non-partisan.
I choose, however, to stand with all GSM people and offer my thoughts on why a statement such as this Nashville manifesto is worth countering.
As a Christian spiritual director, I take my cues from Jesus and one of his teachings that has always guided how I treat others—whether they are like me or different from me—is "Love your neighbor as yourself."
How would I like to be treated? Then that's at the very least how I will treat others and I believe it would be Christ-like to go even farther and treat people as they would like to be treated.
I would never want to be referred to in the angry, hurtful, heterosexist language used in the Nashville Statement. In fact, in one way, I was mentioned and I felt the burn. This statement links marriage primarily to procreation. I have no children, so I guess I'm in need of repentance in their eyes.
It also speaks of male and female as the only genders around. What does this mean for people who are Intersex and born with both male and female characteristics?
But mostly the statement employs the usual anti-gay rhetoric that has been driving the gay community away from church for the past 50 or so years.
OK, so I've made my point. I reject the Nashville Statement wholeheartedly. As an ally of the GSM community and as a spiritual director who loves working with a diverse and wonderfully created clientele, I stand with Jesus in loving neighbors as I want to be loved and accepted.
And I'm asking all spiritual directors to be open and affirming of gender and sexual minorities. In fact, I would say that if you only want to work with cisgender (look it up) and heterosexual people, you should really not be a spiritual director. If you fall in that category, I would encourage you to get to know some people who are different from you. Many progressive churches (UCC, some UMC, PCUSA, Episcopal, ELCA and others) are open and affirming and in those churches you will come to know people who are GSM and their loved ones. I think you will find that to know them is to love them.
Arguments about homosexuality and church teachings used to seem so complicated. But after doing spiritual direction for over 20 years now, there is no argument for me.
It's all about the Great Commandment and the Golden Rule.
---
Want to try spiritual direction? I have openings in my schedule for new directees—regardless of where you live. I can work by phone, Skype or if you live in the Phoenix metro area we can meet in person. Contact me at teresa@teresablythe.net or visit www.teresablythe.net. Also visit my website for the Phoenix Center for Spiritual Direction.
It's easy to subscribe to this blog and get updates in your email inbox. Check out the right side of the webpage and fill out the form under GET PATHEOS NEWSLETTERS. New posts come to your inbox when published.
Thank you for following this blog!