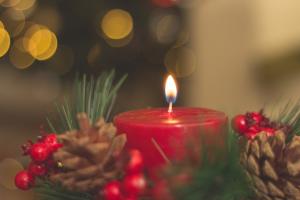 We need not approach biblical texts passively. We can communicate with the stories as we read them — we can talk back to them!
Today's Advent meditation is a dialogue with Matthew's version of the feeding of the four thousand (Matthew 15:32-37).
Then Jesus called his disciples to him and said, "I have compassion for the crowd, because they have been with me now for three days and have nothing to eat; and I do not want to send them away hungry, for they might faint on the way." 33 The disciples said to him, "Where are we to get enough bread in the desert to feed so great a crowd?" 34 Jesus asked them, "How many loaves have you?" They said, "Seven, and a few small fish." 35 Then ordering the crowd to sit down on the ground, 36 he took the seven loaves and the fish; and after giving thanks he broke them and gave them to the disciples, and the disciples gave them to the crowds. 37 And all of them ate and were filled; and they took up the broken pieces left over, seven baskets full. 38 Those who had eaten were four thousand men, besides women and children. 39 After sending away the crowds, he got into the boat and went to the region of Magadan. (NRSV)
The Practice
Read the scripture slowly. You may want to read it more than once.
Consider which character in the story you would like to interact with. It could be a person you find agreeable, or a person you want to question or debate with. Who are you drawn to? When you decide on a character, write the name at the top of your paper.
Have an imaginary conversation — on paper — with the character in the story. You may want to stick with the theme of the scripture and talk about that or you may want to discuss other topics. It is completely up to you. Let your imagination roll free and see what transpires. (20 minutes)
When you are finished, read your dialogue aloud.
What is it like to have a conversation with a biblical figure? Why did you choose the character you chose? Did anything in the conversation surprise you? Did anything in the conversation move you? Did you feel any inner "blocks" to doing this sort of exercise? Did you feel the presence and guidance of God in the dialogue? What did you learn about yourself as you read about and engaged this biblical figure? How easy or difficult is it for you to have these kinds of imaginary conversations? How useful would you say such conversations are for you?
End your reflection time with a prayer of gratitude for what you experienced.
---
Are you interested in learning more about spiritual practices or perhaps beginning spiritual direction? I am currently taking on new directees. Contact me: teresa@teresablythe.net or take a look at my website www.teresablythe.net to learn more.