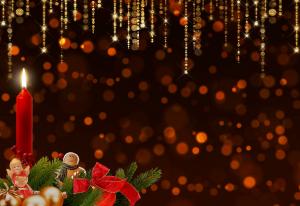 One of the most beautiful passages in Luke's gospel is the prophecy of Zechariah, a poem known as the Benedictus.  Zechariah was a priest married to Elizabeth and in their advanced age they conceived a long awaited child — a boy who would become John the Baptist, a relative of Jesus. Zechariah didn't believe the angel Gabriel when he said that Elizabeth would bear a child, so as a sign of his lack of faith, Zechariah was stripped of his ability to speak until the child arrived.
After John's birth, Zechariah was once again able to speak and this prophecy is what he delivered.
The Practice
Read the Benedictus through more than once. Notice any word, phrase or image that seems to resonate deeply within your heart.
Zechariah's Prophecy
68 "Blessed be the Lord God of Israel,

for he has looked favorably on his people and redeemed them.

69 He has raised up a mighty savior for us

in the house of his servant David,

70 as he spoke through the mouth of his holy prophets from of old,

71      that we would be saved from our enemies and from the hand of all who hate us.

72 Thus he has shown the mercy promised to our ancestors,

and has remembered his holy covenant,

73 the oath that he swore to our ancestor Abraham,

to grant us74 that we, being rescued from the hands of our enemies,

might serve him without fear,75 in holiness and righteousness

before him all our days.

76 And you, child, will be called the prophet of the Most High;

for you will go before the Lord to prepare his ways,

77 to give knowledge of salvation to his people

by the forgiveness of their sins.

78 By the tender mercy of our God,

the dawn from on high will break upon us,

79 to give light to those who sit in darkness and in the shadow of death,

to guide our feet into the way of peace."

80 The child grew and became strong in spirit, and he was in the wilderness until the day he appeared publicly to Israel. (NRSV)
Let the word, phrase or image from the Benedictus that resonates for you stay with you. Pray with that phrase. Use it like a mantra to breathe with.

Spend a few minutes reflecting on the word, phrase or image. How does it connect with your life today? How does it connect with what is going on in the world today? What might God be saying to you in this word, phrase or image?

Express to God your needs, hopes, desires and gratitude. Let this be a time of unbridled conversation with God.

Sink into deep silence as you close.

If you desire, write down your word, phrase or image and journal about your Benedictus prayer experience.
---
Interested in learning more about spiritual direction? Contact me at teresa@teresablythe.net or visit my website www.teresablythe.net. I enjoy hearing from readers!