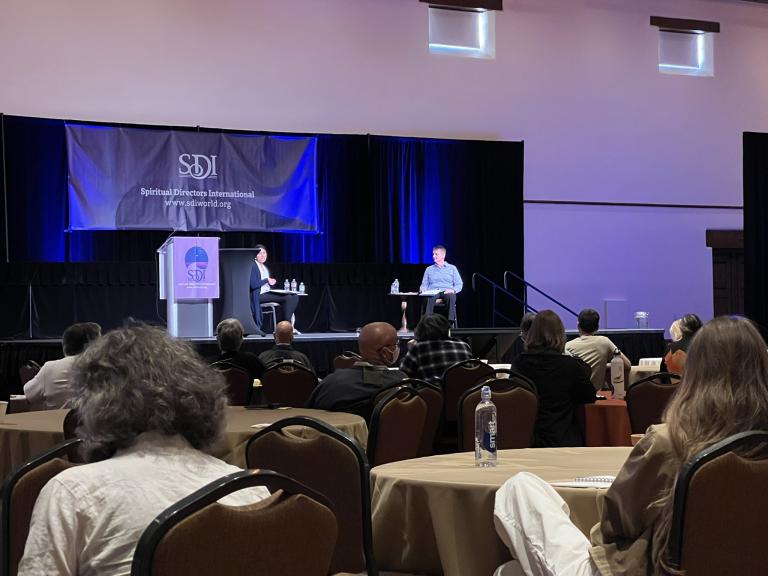 Back in May, in Santa Fe, New Mexico, the SDI Engage Conference attendees and hosts alike celebrated, explored, and expanded the world of spiritual direction. 
It was a privilege to be able to go in person and present my workshop on "Passing the Torch: The Apprentice Model of Spiritual Direction Training." In this workshop, I encouraged participants (as I encourage you, perhaps) to consider offering apprenticeships to people who might benefit by learning from your area of expertise. For example, maybe your religious tradition is new to spiritual direction as it is practiced today yet you were trained to do spiritual guidance. Perhaps you could mentor others in your tradition in a nuanced and tradition-appropriate way of companioning another along the spiritual path.
But let's talk about the conference! First of all, downtown Santa Fe is an awesome place to have a conference! It was wonderful to see hundreds of people from the spiritual guidance community gather in person and online (about 800 people) for keynotes, workshops and free time together. Oprah's Super Soul Sunday producers would have been proud of the SDI coordinating council's slate of keynote speakers — and the workshops covered so much ground, no one could attend all of them. So I took some time to go over my notes and rewatch videos of the presentations I missed. With so much to cover, I encourage you to check the www.sdicompanions.org website in a few weeks or subscribe to their news updates at https://www.sdicompanions.org/media/subscribe/ to catch everything at your own pace.
Here's what I noticed: 
Most of the keynote speakers mentioned somatic (body focused) awareness and workshop leaders who I observed. There were lots of breathing and interior listening "breaks" we were invited to take.

Rev. Shannon Michael Pater

's

workshop on becoming a trauma-sensitive-spiritual-director led the way in this body-focused awareness. He is someone to contact if you are interested in apprenticing with him for specialized training. 
Spiritual directors were encouraged to embrace the role of "witness" both with our clients and in the world. The chant "we witness" was used in various contexts. We witness the injustice in the world; the power dynamics; the overemphasis on productivity that oppresses the working person; the beauty of the Divine. We are urged to be more vocal about what we witness.
70% of the spiritual directors/companions/guides who are members of SDI now identify as "spiritually independent" or "interspiritual." The conference content reflected that. What started out as an organization of mostly contemplative Christians in the early 90's is now an international gathering of guides from a multitude of traditions and who work in a multitude of ways. 
Many spiritual directors are combining modalities such as coaching, enneagram, creativity, somatic awareness and art with the skills of spiritual direction. I met an interesting Animal Chaplain who has a training program for that sort of chaplaincy.
A funny thing happened the first day (funny to

me

at least). After a long morning of keynote speeches there was a coffee break. I counted at least 12 suspected introverts sitting quietly by themselves out in the sunny courtyard getting away from the crowd and processing all that had been presented. Yes, I was one of them!
My presentation on the Apprentice Model of Spiritual Direction training was a personal highlight. About half the attendees were online and the other half in the room with me. Only two people I met at the conference had apprentice-style training, so it was definitely a novel concept for those who attended the workshop. I was able to share how meaningful it is to me to work individually with prospective spiritual directors. As I mentioned before, I feel called to encourage other spiritual directors to take on apprentices, especially directors who can offer continuing education in specialized areas.
I believe that one-on-one or tiny cohort training is the wave of the future, especially for continuing education in spiritual direction. It's flexible for all involved, it can be personalized and can be done live via online conferencing without anyone needing to travel anywhere. It fits in a person's daily life.
Just something to think about.
The Phoenix Center for Spiritual Direction has graduated 26 apprentices since we began the program in late 2019. Many of them have specialties that give them niche markets to pursue. If you know someone who needs a spiritual director with any one of the following specialties let me know and I can provide details. My graduates include people with expertise in:
Trauma informed spiritual direction

Feminist spirituality

Addiction recovery

Enneagram

Multi-faith, interspiritual and spiritually independent concerns

LGBTQIA+ issues

Mission work

Clergy, church leaders and denominational leaders

Quaker spirituality

Chronic illness sensitivity

Evangelical and former evangelical issues

BIPOC issues

Social Justice and spirituality convergence

Mysticism and psi experiences

A blend of spiritual direction and life coaching

Issues of concern to people in the military

Working with seminary students and people in discernment around ordained ministry
Feel free to contact me via email for contact information.
---
Teresa Blythe is a Phoenix based spiritual director, author and trainer of apprentice spiritual directors. To learn more about spiritual direction, check out her book Spiritual Direction 101. For a primer on spiritual practices, look at her first book, 50 Ways to Pray. Her website www.teresablythe.net contains a lot of information about the art and practice of spiritual direction.