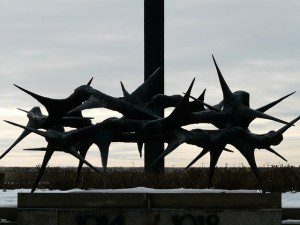 I don't mind when people disagree with me, but I don't like to be called names. Most people don't. I've been called quite a few names in my day, and some of them were more hurtful than others. When a commentator yesterday informed some of my commentators and me that we were crazy, psycho, paranoid and needed to take off our tinfoil hats, though, I took particular offense. I was even more horrified when I found out that this commentator has two intellectually disabled daughters. Surely, she'd be the first to take offense if someone used the word "retarded" as an insult, and justly so. That would be disgusting. But here she is vehemently disparaging us with the name of another disability. I was furious– not for my sake, but for the sake of my friends.
You see, over the years, my husband and I have been blessed to know several people who were diagnosed with psychotic disorders. Some of them were diagnosed as bipolar two with psychotic features, and some of them were diagnosed as schizophrenic. Some of them were unmedicated most of the time because the medication made them so sick, and some of them took medication all the time. Some of them self-medicated with illegal drugs, some did not. Some lived with their families and some lived alone. Some of them had had good experiences in the hospital. A lot of them had had terrible, abusive experiences, so terrible that they would rather die than ever go back.
Let me tell you about these people. Usually, they were a little absentminded. Sometimes they reacted to things that weren't there. Most of the time, they knew that what they were seeing wasn't real, but sometimes they were fooled by their experiences. Most of them needed some help with day-to-day tasks when they were going through a bad spell, just as I often need help when my autoimmune issues are bad. Most of them were excellent artists of some kind or another– they wrote trippy poetry, or made music, or colorful abstracts. Sometimes they said things that didn't make any sense, just like I sometimes say the wrong thing. Sometimes they found real joy in their experiences– there were times when their hallucinations sounded more like visions to me, and I wondered if they were being visited by angels. Sometimes, they were in agony because of them. Once or twice I had to stay up at night chatting online with them, because they were in so much pain they wanted to die and there was no one local to help.
Once, my friend Cate* couldn't get her anxiety medication refilled. She went into severe withdrawal, and the withdrawal caused her to have a psychotic episode. She posted page after page of "word salads" on her personal blog: long, colorful, poetic-sounding sentences and fragments that didn't make any sense to me. After she recovered from the episode, she refused to delete them. She didn't understand what she'd written either, but she said "it had its reasons." Once, my friend Harry told me that there was a voice named " Maggot" in his head, who yelled insults and curse words at him all day long. Medicine did not make Maggot shut up; it seemed to only make him angrier. Harry was suffering horribly because Maggot told him that he was not allowed to listen to music or hug his teddy bear, or else Maggot would give him a migraine. Vinnie suffered a persecuting voice also. His medication gave him severe digestive issues, and he died unexpectedly during medically ordered slow withdrawal of medication.
Never once did I feel unsafe around people who suffered from psychosis. They never tried to hurt me. Sometimes they prayed for me. Sometimes they made me art with pictures of saints and angels, all covered in religious imagery displayed in strange, not irreverent ways. Sometimes, they couldn't understand why I was a Christian, and acted like that made me a little crazy. But they tolerated me, because they knew what it was like to be thought of as crazy. They tolerated everyone. And they were wonderfully generous in every way they could be. Cate once stayed up all night chanting prayers for justice for a friend, a fellow psych patient who had been abused. Vinnie made beautiful sculptures out of palm branches and molded wax. When my mother-in-law mentioned how much she loved strawberries, Vinnie picked her a basket of wild strawberries from the woods near his house. He made my husband a strange, colorful Rosary out of hemp and clay and plastic beads; I keep it with my icons and relics now. Harry always had a comforting word for me when he saw I was suffering.
I'm not going to tell people what to say and what not to say, but I want to point something out: when you call people "insane" or "psychotic" in order to convey that they're bad people, you're implying that people who have psychotic experiences are bad people. You're implying that Vinnie, who picked strawberries and made Rosaries while fighting a voice in his head, was a bad person who ought to be mocked. When you call someone "psycho" to discredit the point they're trying to make, you're saying that people diagnosed with psychotic symptoms should be discredited and that we shouldn't listen to what they have to say. You're saying that Cate is incapable of logic, even when she's not having an episode. When you talk about tinfoil hats and paranoia to discredit an ill-informed or stupid political belief, you've saying that people who suffer from delusional thoughts are ill-informed and stupid. You're saying Harry, who finds new ways every day to defy Maggot, is stupid.
It's not an act of extraordinary compassion to admit that people who bear different crosses than you do are human beings. On the contrary, it's the baseline of human empathy. A person being abused by a voice in his head is not a fundamentally different kind of person than a person being abused by a parent or spouse; a woman speaking in word salads is not different kind of person from a woman speaking in a language you don't know. They are human beings, who have different experiences than you do. Christ is hidden in them as much as He is in you. To take their sufferings lightly is to take the passion of Christ lightly, just as it is for anyone else's sufferings. I can't tell you exactly what you should and shouldn't say, but I caution you to tread lightly. To mock the tabernacle is to mock the Presence.
*I have changed identifying details to protect anonymity and privacy.
(Image via pixabay)