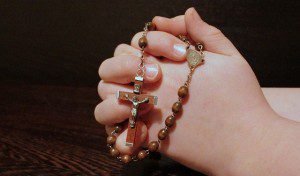 (image via Pixabay)
My Orthodox friend whose post I shared earlier this week, just posted a photo of her church bulletin on Facebook. She wanted to share a quote it reprinted, from Bishop Nikolaj Velimirovic who has been glorified a saint by the Serbian Orthodox church and whom I had never heard of until now.
This quote took my breath away:
Bless my Enemies, Lord. Even I bless them and do not curse them.

Enemies have driven me into Thy embrace more than friends have. Friends have bound me to earth, enemies have loosed me from earth and have demolished all my aspirations in the world.

Enemies have made me a stranger in worldly realms and an extraneous inhabitant of the world. Just as a hunted animal finds safer shelter than an unhunted animal does, so have I, persecuted by enemies, found the safest sanctuary, having ensconced myself beneath Thy tabernacle, where neither friends nor enemies can slay my soul.
Amen. I've been pondering the mysteries of terrible people and acts of violence all week; this prayer is an answer I hadn't even thought of.
Bless our enemies, Lord, and all who wish us evil. Amen.