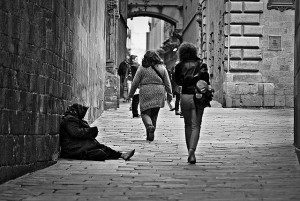 (image via Pixabay)
I'd finally kept my promise to my daughter. We were going to bring a snack to the Friendship Room, as soon as we could afford to; our widow's mite of mercy in the battle against injustice. We could only afford to bring one item that month, and Rose chose a package of Cosmic Brownies because she liked the bright colors.
The Friendship Room was closed when we got there, but the after hours cooler was there– they try to keep a cooler stocked with sandwiches and snacks as much as they can, so that anyone who comes when they're not home won't be sent away hungry. But they can't always keep it full, so they've invited people to place lunches in the cooler whenever they're downtown. Today, it was empty except for a few gnarled little apples.
Molly has mentioned that many guests can't eat apples and other hard food, because their teeth have been neglected for too long. These apples might as well have been made of iron.
"We got here just in time," I told Rose.
Rose dumped the brownies into the cooler. There weren't even enough to cover the apples on the bottom.
No sooner had we shut it then two pleasant and raggedy poor men arrived– Saint Francis and Brother Juniper, perhaps. Both were dressed in worn-out thrift store clothes and shoes that were nearly disintegrated on their feet. Saint Francis was leading two happy but extremely smelly mutts by two worn out leashes; Brother Juniper had a tortoiseshell cat, one of Steubenville's feral strays, snuggling in his arms. We shut the cooler just as they opened it.
Saint Francis swore gleefully. He tossed three Cosmic Brownies to Brother Juniper, who couldn't quite catch them while still snuggling the cat. They flew across the sidewalk, their wrappers glittering like polished gems in the afternoon sun, and bounced off of his arms onto the ground. He picked them up without putting down the cat.
Rose and I went to the adoration chapel nearby for a few minutes. I prayed while she fidgeted and tried not to swing a Rosary around her head like a lasso. Then we went to the thrift store. Then we went to the drug store on our way back to the bus stop, and it was there that we met up with Saint Francis and Brother Juniper again. They were with a blonde woman who might have been Saint Clare– "Clara" means "light," after all, and her prematurely aged face was radiant with light.
"I'm clean," she was telling anyone who would listen, triumphant joy transforming her harsh Ohio-Valley accent into a chorus of angels. "I'm clean for a month now. No alcohol, no heroin. I'm taking drug and alcohol classes. I'm looking for a job."
As we passed, she asked if Rose wanted to pet Saint Francis's two smelly dogs, and Rose did. Their names were Duke and Princess. Princess could sit on command; Duke liked to jump up and paw people's knees, if they didn't pay attention. Brother Juniper boasted that he'd tamed the cat, who didn't have a name, all by himself. He was good at getting stray cats to follow him and rest in his arms.
We stayed playing with the animals so long, we almost missed the bus.
That was nearly a month ago, now.
The day before yesterday, I saw this update on The Friendship Room's Facebook page:
"Another young soul has lost the battle to heroin, 22 yrs old.
Please remember her and those who loved her in your prayers ."
It couldn't have been one of the people I met.
Could it?
It couldn't have been Saint Clare, who was clean and in classes and hoping to get a job, having an unfortunate relapse. It couldn't have been Saint Francis or Brother Juniper with the smelly dogs and the tortoiseshell cat. Could it?
Likely not.
There are too many people to count downtown who are on heroin. Some of them probably got into it of their own fault; many were forced into that life as children and can't break free. It was probably someone I didn't know at all.
Should I have known them?
Lord, when did I see You?
Christ walked among us and we knew Him not. Now He's dead, again, and again we hear His death proclaimed. Christ is always dying out there– in the streets, squatting in abandoned buildings, crying in helplessness at the homeless shelter or the Friendship Room. So often, there's nothing we can do to stop His death. We can sit awake with Him in Gethsemane, trying not to fidget or swing our Rosaries. We can soak a sponge in common wine and raise it to His mouth; we can bring Him a small box of snacks that doesn't even cover the bottom of the cooler, and at least He'll have something He can eat without hurting His broken teeth now and then.
Rose and I will go back with more snacks, when we can afford to. To those who don't know, we will proclaim the Death of Christ, and maybe they'll come fill the cooler with us. We'll go to Gethsemane in the Adoration chapel and try not to swing our Rosaries. Whenever we find ourselves in the other Gethsemane, where people are suffering alone, we'll try to comfort them. We'll celebrate with them when they have a triumph to celebrate, and we'll pet smelly dogs and admire cats that have no name, and almost miss the bus. But it won't be enough.
I pray, whoever that 22-year-old heroin addict was, that they are in the arms of Christ now. I pray that Saint Francis, the real Saint Francis, was there with them when they passed. I hope they went to the cooler and found something they could eat first; I hope they didn't die hungry. I hope someone was there for them.
Lord, have mercy.