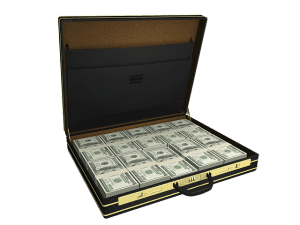 (image via Pixabay)
Do any of my good readers know how I can contact George Soros?
You see, I have just been informed by an alert Facebook commentator that Patheos is funded by George Soros. We're all unemployed millennials in the pay of Big Soros, apparently, and that's why some of us are not good stalwart Republicans. Which, she is right, I have never pretended to be a Republican. And George Soros is the one funding us to funnel votes away from the Republican Party.
The thing is, I've failed to receive a salary from George Soros since I started this gig in late March. I haven't gotten a penny from Soros.  Can anyone let him know that the big suitcase stuffed with neat stacks of hundred dollar bills never arrived at the dropoff? Also I've failed to receive my secret decoder ring.
Oh, and when I questioned her line of thought, the alert commentator replied, "I can see by your response where you are on your faith journey. May the Holy Spirit guide you to Jesus and away from polemics and confusion. Our faith is about Jesus, not politics."
I've got to agree with her, I am pretty confused.
It's still not as confusing as the time another alert commentator claimed that the Byzantine Catholic Church in its entirety had been excommunicated by "Vatican Two," though. But maybe that's just what George Soros wants us to think.