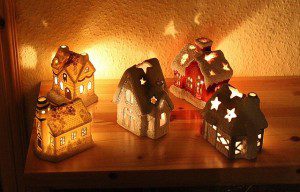 I want to talk to my readers who, like me, have been abused, and are struggling at Christmastime. I also want to talk to people who know abuse survivors and want to be helpful; particularly the ones who think they should give advice.
Advent and Christmas are times of year when we want to be with family. That's what we're conditioned to want, after all. Turn on the television and watch the ads. Watch the holiday specials, if you've got a strong stomach. Everyone wants to go home to their families. The people who don't want to be with their families are always painted as unreasonable. The holiday season seems to be all about family, getting together with family, reconciling with family members.
What do you do when your family is dangerous to you?
What if they hurt you?
What if they won't stop, no matter how hard you try to set boundaries? What if you're forbidden to set boundaries?
I think it can be very difficult to accept that sometimes, through sin, families can fall apart and there's no way to stick them together again. We're people of faith. We'd like to believe that a pleasant storybook reconciliation and reunion is always possible on this earth. And when we choose to believe or unconsciously accept that it's always possible, we can end up putting a lot of pressure on abuse survivors, the very people we should be supporting. And we survivors put a lot of extra pressure on ourselves, too. We wonder if it's really okay to leave, or to stay away if we've already left.
I've compiled a handy list of FAQs and answers, some of which I've been asked and some of which I've asked myself. Hopefully this will help.
What? You're not going home for the holidays? Don't you want to be with your family at Christmas?
Yes, I'd love to be with my family at Christmas. But I don't want to be verbally and emotionally beaten to a pulp. I am friends with some family members and love them very much, but there are family members I will not visit or speak with in order to protect myself. Christmas isn't an exception to this rule.
What about your daughter? Wouldn't you like her to have memories of fun with her extended family at Christmas?
In theory, it would be nice. But I value my daughter's mental health way too much to put her in that much danger. And I seriously doubt it would be fun anyway.
Our Lord forgave His enemies. You have to forgive your family or Jesus won't forgive you.
Yes, and I do forgive them. I forgive them every day, every time the anger comes back. I have no idea if I've gotten up to seventy times seven times yet, but I probably have. Forgiveness means being willing to let your wrath go. It means being willing that your enemy should be healed by God and sin no more. It means that, if it were theoretically possible that your enemy and you should live together without harming each other, you should strive to be willing for that. It doesn't mean returning to an abuser who's certainly going to abuse you again. Jesus forgave His enemies. He didn't climb back on the cross so they could abuse Him again. I'm trying to do the same as He did.
Remember the Ten Commandments! We are to honor our father and mother.