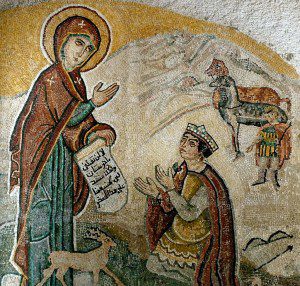 I'm reading the news about Aleppo, as I'm sure most of you are by now. It's changing every time I refresh my browser, so by the time you read this the situation will certainly have changed again. What I know now is that the city of Aleppo has fallen, and as of moments ago Syrian troops were murdering civilians— women, children, doctors, anyone they come across, in the streets and in their homes. The United Nations reported they'd shot dead eighty-two civilians, including eleven women and thirteen children. Thousands more lives are in danger according to the Red Cross.
I am helpless, and all I can do is pray. And I invite my readers to pray with me.
Ahsalahmoo Ahlay'eekee, Yah Maree'um. Yah moom tahlee'ahtah nă'mah Al'rahboo mah'ahkee moobarak'ahtun entee bay'eenah nee'sah, wah moobarahkun thum'rahtoo butneekee Sah'ee Yedahnah Yesoo'ah Mus'seehă.
Yah kahdeesah Maree'um, Yah Wahleedahtah Allah, sahlee lee ăz'leenah nahaa'noo ha'tah'ah alen wah fee sah'ahtee mahooteenah.
Ameen.
Most Holy Theotokos, Save Us.
(image: an icon of Our Lady from the Convent of Our Lady in Sednaya, Syria, via wikimedia commons.)