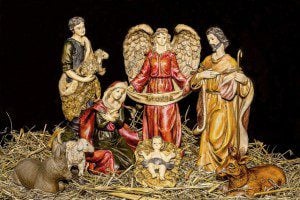 If you are disappointed this Christmas, I understand.
If you are lonely and depressed, I get it.
If you are anxious– believe me, I know.
I've been there. I'm there myself.
And there's nothing wrong with the way you feel.
Christ is here too, of course. He chose to be with us in our suffering.
We often forget that this festive, joyous, colorful season of the year began with a poor woman giving birth in a dank, straw-strewn cave. She was visited by poor laborers and strange men with prophetic gifts; she brought her son to the temple to fulfill the ancient covenant, with nothing for an offering but two turtle doves. She took the child one night and fled into Egypt, another helpless refugee narrowly escaping genocide. She was afraid, she was cold, she was alone, she felt forgotten.
Because of this, we have a Christmas. Because of this, at midnight,  the star shone brighter than day. Because of this, every angel cried out in wonder. Ignorant shepherds understood; pagan astrologers worshiped; Simeon sang his canticle. The veil would soon be torn and the gates of Heaven opened– because of the fiat of the poor and lonely woman; because of the voluntary suffering of her only Son.
Christmas is about joy, happiness, abundance and delight. Of course it is. But it's also about loneliness; it's about poverty, sorrow, trauma and injustice.
Christmas is the time when God entered human history, taking the form of a slave. So, it is a human time and a Godly time. That covers anything you could possibly feel, anywhere you could possibly be.
The Mystery is infinitely beyond us– more vast than the sky, farther away than that impossible star in the East, far even beyond the Heavens above the firmament– yet it hid nine months in the womb of the Virgin, and it lies before us tonight, helpless and poor in the crib. Soon, we will see Him, helpless and poor on the cross.
By His wounds, we will all be healed.
The meaning of Christmas is not that there is no pain. The meaning of Christmas is that pain will one day give way to happiness– and that in the meanwhile, pain itself has been given infinite meaning.
Christ became human and suffered so that whenever the Father looked upon human suffering, He would see His only begotten Son.
That where we are, He would also make His dwelling– and that, someday, we will be with Him in paradise.
The Word became flesh and was crucified, so that our crucified flesh would be one with the Word of God.
Don't feel pressured to be happy, if you're not. But, if you can, store up and treasure two things in your heart: your suffering will not last forever, and your suffering has meaning. Christ will hold those two mysteries for you if you don't have the strength to ponder them for now, of course, so on't feel pressured about that either.
However you feel, I wish all of my readers a blessed Christmas.
https://www.youtube.com/watch?v=jQqp6hpBpd8