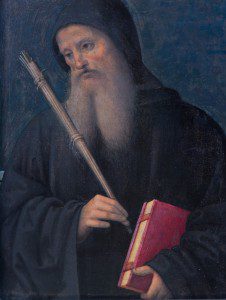 I am a Benedictine monk, and I've been perplexed ever since I first heard of Rod Dreher's proposal of a "Benedict Option." (Dreher answers frequently asked questions about his "Benedict Option" here.) He turned to St. Benedict after reading Alasdair MacIntyre's recommendation of the monastic saint. Dreher states:
The 'Benedict Option' refers to Christians in the contemporary West who cease to identify the continuation of civility and moral community with the maintenance of American empire, and who therefore are keen to construct local forms of community as loci of Christian resistance against what the empire represents."
Dreher wants to see such an option for laypersons. However, in writing his regulations for monks, St. Benedict did not propose resistance to any external empire, but rather to self-will and one's own lack of humility.
Perhaps Dreher's "Benedict Option" should have had a different name in the first place, since St. Benedict (d. AD 547) wrote only for monasteries and those who lived inside them. It was not his intention to shape the world of laypersons outside the monastery, but to keep all the world out of the monastery.
In chapter 66 of his "Rulebook" for monks, St. Benedict wrote:
The monastery should, if possible, be so constructed that within it all necessities, such as water, mill and garden are contained, and the various crafts are practiced. Then there will be no need for the monks to roam outside, because this is not at all good for their souls."
In the next chapter, St. Benedict wrote of monks whom the abbot has for some reason sent on a journey:
When they come back from a journey, they should, on the very day of their return, lie face down on the floor of the oratory at the conclusion of each of the customary hours of the Work of God. They ask the prayers of all for their faults, in case they may have been caught off guard on the way by seeing some evil thing or hearing some idle talk. No one should presume to relate to anyone else what he saw or heard outside the monastery, because that causes the greatest harm. If anyone does so presume, he shall be subjected to the punishment of the rule."
St. Benedict clearly wanted his monks to have little knowledge of and influence from the world outside the physical enclosure of the monastery. This restriction is a legitimate aspect of the monastic charism, but it is not something appropriate for laypersons in general or the entire Church.
Here is Christ's option for the Church as a whole.
"You are the salt of the earth… You are the light of the world. A city set on a hill cannot be hid. Nor do men light a lamp and put it under a bushel, but on a stand, and it gives light to all in the house. Let your light so shine before men, that they may see your good works and give glory to your Father who is in heaven." (Mt 5:13a,14-16)

"Go therefore and make disciples of all nations, baptizing them in the name of the Father and of the Son and of the Holy Spirit, teaching them to observe all that I have commanded you." (Mt 28:19-20a)

"Go into all the world and preach the gospel to the whole creation."(Mk 16:15)
It would be exceedingly difficult for the Church to obey Christ in these matters if the Church as a whole were to live as St. Benedict wanted monks to live.
During his public ministry— and I emphasize the word "public"— Christ withdrew frequently for solitude and prayer, but he didn't live as a Benedictine monk. Christ did grow up and live within the relative "cloister" of Nazareth for about three decades, but then he left it to serve the world. His return visit to Nazareth ended disastrously.
Christian monasticism existed before St. Benedict, and in his lifetime was not yet governed by Church law. There were no "religious orders" as we know them today. Anyone with the means and will to do so could start a monastery. Like others before him, St. Benedict wrote a "rulebook" for his own monastery. He did not believe he was starting something new, but referred deferentially to earlier monastic regulations, writers, and leaders. He expressed no intentions of renewing culture or civilization.
Nonetheless, within a few centuries after St. Benedict's death in A.D. 547, the Church began to send teams of monks and laity into pagan regions to collaborate in building monasteries with adjacent villages as somewhat prefabricated, "pop-up" Christian communities for the sake of evangelization.