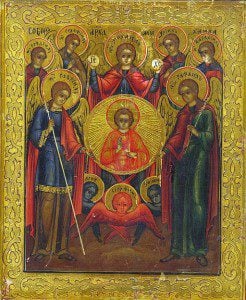 I woke to the beating of rain on the window– a dark, sloppy Ohio Valley Tuesday in the darkest, sloppiest part of the year. It was cold. I was depressed.
I needed to cheer myself up.
I took my daughter Rose downtown to The Friendship Room for a visit. In winter, the Friendship Room is open all day long as a shelter for the homeless and those who can't afford to heat their houses. Molly says I can come over any time, and visiting always cheers me up. Besides, they need fresh fruit donations every day, and we happened to have bananas.
I brought them the bananas. We chatted about how hard it is to get fresh fruit downtown, now that the only downtown grocery store is closed. I showed my daughter their fish tank and their finches. I admired the holy card icon of the Synaxis of the Bodiless Powers which they have pinned to the wall in the front room. I love the Bodiless Powers– a poetic Eastern Christian term for the angels. They are my best friends. I pray to them every day, and I consecrated Rose to them when I found out I was pregnant.
When it was time to go, I said goodbye to my friends and the animals; then I waved goodbye to the icon.
I felt so happy, I decided to sneak into the adoration chapel in the basement of the church across the street.
I haven't felt welcome in any Latin Catholic churches for a long time; most local Latin Catholics are not kind to oddballs, and doubly unkind if the oddball is poor and only managed to have one child. I was afraid to see someone I knew, and get glared at or pointedly ignored again. That might spoil my day. But I was still riding the wave of exhilaration from visiting friends, admiring animals and waving to the Bodiless Powers. I brought Rose into the Adoration chapel.
To my delight, no one I knew was there. There was only an old woman who smiled at Rose as she fidgeted. I said my prayers. I finished up with a Prostration the way they do in Eastern churches. I played one round of Hide and Seek with Rose in the dark reception room beside the adoration chapel. I felt even better than when we'd left The Friendship Room.
On the way to the bus stop, we went to the thrift store and hit the jackpot. There must be a rich fat woman with excellent taste somewhere in Steubenville, and I hope she lives to a ripe old age. Every several months, I find a huge amount of gorgeous, brand new clothes with the tags still on at the thrift store, and they're all my exact size. Today, I discovered she'd just dropped off another horde. There were lace jackets, embroidered hippie tops, comfy kahki slacks; there were even a pair of shiny new shoes in my size. I filled a basket of clothing, bought a toy barn for Rose, and still spent less than ten dollars. They were giving away bags of Panera bread at the door, so I picked up some for my husband, the only one of us who can eat gluten. Something for everybody. A perfect afternoon. A little Christmas. I was overjoyed.
That ended when I got on the bus.