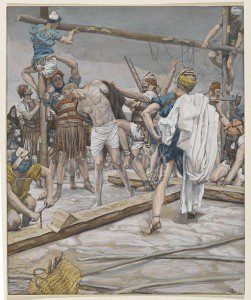 We adore You, O Christ, and we bless You, because by Your holy cross You have redeemed the world.
When the soldiers had crucified Jesus, they took his clothes and divided them into four parts, one for each soldier. They also took his tunic; now the tunic was seamless, woven in one piece from the top.
We were told the Bridegroom would come at an hour we knew not. It turns out that the hour is a little before Noon, the day before Sabbath during the Passover, when Israel was the property of Rome. Here is the Bridegroom. You can tell it is He, because He is holding your dowry. Everything that you own is His– your weakness, your pain, your shame, your ugliness. Your crown of humiliation is on His head, and your stripes cover His body. He has taken everything that is yours to Himself– except for your death. That will happen a few hours from now.
You will see the Bridegroom coming again, at another hour and day you don't expect, bringing with Him everything that is His to give to you– happiness, freedom, wisdom, beauty, strength– for the wedding feast that has no end. But first, He takes all that is yours onto Himself.
First, He consummates His marriage with you.
It was always going to be this way. No matter what choices human beings made, God intended that the Son should dwell among us and share our chalice. What was in the chalice, was ours to decide. What have we put in the chalice? Conquest, oppression, mockery, torture, murder, cruelty that calls itself masculinity and strength. This is how humans treat one another. Christ came into the world to be treated the way His beloved is treated– He volunteered to be born in a conquered nation, to an oppressed race; to be mocked, tortured and murdered by cruel men who believe themselves strong. Because that is the cup His beloved will have to drink. That is your chalice.
This is the Wedding Feast of the Lamb. Your bridegroom is going to drink the wine with you, and consummate your marriage.
They give Him wine mingled with gall, because everything you've had to drink on this fallen world has been mingled with gall. He tastes it, but He does not drink enough that it will interfere with sharing in your pain.
They strip off His robe, re-opening all of His wounds. You wouldn't think He could bleed anymore than He already has, but He is bleeding right now.
Here is God, the Lover of Mankind, Alpha and Omega, Wonder-Counselor, Father-Forever, King of Kings and Lord of Lords, totally naked for all the world to see.
No, don't look away. Forget your sense of decency. Forget your people and your father's house. Forget where you've come from; forget the weary way of the Cross you have been walking all your life. The Lord is doing something new. The Wedding Feat of the Lamb has begun. The Father sent His servants to bring you to the banquet. Perhaps you didn't know you were the bride, but you are. You are the bride of Christ. Everything you've seen Him suffer has been for you. Everything He still has to suffer, is for you. Every joy and glory He will have when He returns to His Father's kingdom, He will share with you, after the marriage is consummated.
Out of love for you, Eternity came to dwell in time, and pitch His tent among men. Now here He is at the Wedding Feast, stripped bare for all the world to see.
(image via Wikimedia Commons)
Steel Magnificat will be meditating on the Way of the Cross on Wednesdays and Fridays throughout Lent. All Stations are linked in this post.