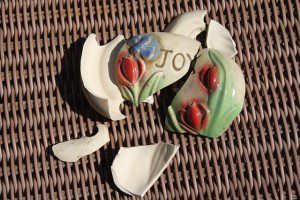 It seems like a long time ago, now.
She was one of the pious women of the Latin Catholic parish, and a member of a certain prayer community I'd tried to join. She was older than me and much richer, respectable, ladylike and a thousand other things I could never hope to be. I thought she was nice. I wanted to be like her. She was in charge of my spiritual formation as a new member of the group; she was going to teach me to pray.
I deeply wanted to be taught to pray. I felt it was important to tell her the truth about myself, so she could teach me to pray most effectively. I admitted the spiritual abuse of my childhood and how I sometimes cringed from the Virgin Mary. The Virgin Mary was that graceful and sinless virgin, lauded by choirs of angels. I was a raggedy and unattractive rape survivor whom nobody liked. We didn't seem to have anything in common. However, I'd learned to love the Virgin Mary when I'd realized that she and I did share an experience– we'd both been traumatized by intense suffering. I was excited to report to that I'd found some common ground with the Virgin Mary.
"I'll bet she had the worst trauma on Good Friday and Holy Saturday," I said to the pious woman of the parish. "I'll bet she was totally destroyed inside, like me. I don't need to be afraid of her. She knows what it's like to be like me."
"But," said the pious woman of the parish, with a cocked head and a gently accusatory smile, "Her trauma would have been without sin."
I didn't understand what she meant.
I still don't, but I was unceremoniously expelled from the prayer community a few weeks later, so I never got the chance to ask.
Did she think that trauma was a sin?
It could be that she was reacting to something else, accusing me of some hidden sin in addition to trauma– that is the way people in this town usually behave toward one another. But it didn't seem that way. It seemed like she thought that the normal, human experience of recovering from severe trauma was a sinful experience. That a human being without sin would feel the trauma so very differently– less deeply, perhaps.
If anything, I think it must be the opposite.
I have two friends who are suffering post-traumatic stress from grief right now. I told you about them earlier this month; one lost her son suddenly to suicide and the other lost her husband, very slowly, to cancer. Neither of them is without sin but I certainly don't think of either one as sinful; one of them is a devout Catholic and the other has described herself as a "hopeful agnostic," if that matters. They are both severely traumatized. Neither of my friends can sleep through a whole night– they wake too early or can't get to sleep at all. Neither can stop thinking about what happened. They are in pain, all the time.
I don't think their pain would be easier if they were without sin. I don't think it would be all that different, except to be deeper.
A woman without sin is a woman who loves, completely. Hearts filled with love break more deeply, not less.
Being without sin couldn't have spared Our Lady any sorrow. It must have made her more vulnerable to sorrow.
It must have been just like I told the pious woman of the parish: here was a woman of perfect love. Love reaches out. Love demands to empathize, to suffer with the beloved. Perfect love must empathize perfectly. And here was her Beloved, suffering a Roman crucifixion for a crime He didn't commit. She must have been wrecked. She must have been crucified in her own soul, stripe for stripe, blow for blow. The only mystery to me is that she didn't die when He did.
Her heart must have died a death– it must have torn to shreds and followed Him in His descent into hell. She must have gone insane. Surely the Resurrection healed her, but she must have been emotionally destroyed for that terrible Sabbath.
I feel closest to Christ when I think of Him in Gethsemane and on the cross. I feel closest to Our Lady in her trauma on Holy Saturday. There, they remind me that pain cannot keep me from the love of God. No pain– physical or emotional, from everyday frustration right up to PTSD– is a sin.
And that's where I go to learn to pray, these days– to His passion, and to hers. I can only pray out of my own heart, after all. That's the one I was given to pray with. I can't pray like a pious and ladylike woman of the parish who is welcome in prayer communities and who thinks human trauma is a sinful experience. I have to pray from a raggedy outcast madwoman's heart, because that is the heart I have inside of me.
Thankfully, that kind of heart is not foreign to Our Lady.
(image via Pixabay)