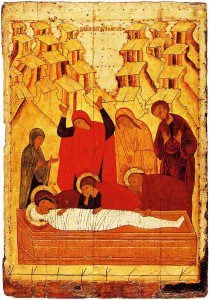 We adore You, O Christ, and we praise You, because by Your holy cross You have redeemed the world.
When it was evening, there came a rich man from Arimathea, named Joseph, who was also a disciple of Jesus. He went to Pilate and asked for the body of Jesus; then Pilate ordered it to be given to him. So Joseph took the body and wrapped it in a clean linen cloth and laid it in his own new tomb, which he had hewn in the rock. He then rolled a great stone to the door of the tomb and went away. Mary Magdalene and the other Mary were there, sitting opposite the tomb.


The next day, that is, after the day of Preparation, the chief priests and the Pharisees gathered before Pilate and said,
Sir, we remember what that impostor said while he was still alive, 'After three days I will rise again.' Therefore command the tomb to be made secure until the third day; otherwise his disciples may go and steal him away, and tell the people, 'He has been raised from the dead,' and the last deception would be worse than the first.
Pilate said to them,
You have a guard of soldiers; go, make it as secure as you can.
So they went with the guard and made the tomb secure by sealing the stone.
Our Lord has passed from our sight.
He is gone from our sight.
While He was here, we didn't know Him. We saw a stranger; a foreigner; a nuisance; one who favored all the wrong people. We killed Him so He couldn't get in our way ever again, and now He is gone from our sight.
But the rulers of the world are still afraid. The Jews and the Gentiles conspired together to kill the Lord; now they conspire to keep Him dead. They find that they've accidentally fulfilled His prophecy of being crucified in Jerusalem; they don't want Him to rise again as He promised, or even to appear to rise. They want to be sure He stays dead.
They set a guard on the tomb. Imagine– not just one guard but a complement of guards, patrolling a fresh grave. It would be comical if it weren't so macabre. They publicly tortured Him to death, and now they've sent guards to a graveyard to make sure He stays that way. He mustn't rise. He mustn't leave the tomb. No one can be allowed to hope that He will leave the tomb. No one can be allowed to make it look as though He's left. All hope must die from this minute. Everyone saw our sin; no one must see how God turns the sin into glory.
They failed in faith when they would not listen to Christ. They failed in love when they killed Him. Now they attempt to bury all hope and keep it sealed in the tomb forever. If Christ rises from the dead then our hope is not lost, and faith and love can be brought to life again. They can't have that. It would ruin their plans.
Meanwhile, there are the two Marys, not the Mother of God but two less significant Marys, sitting opposite the tomb. The guards don't bother to send them away. They're worthless– not only foreign women of a conquered race, but women of ill repute, below the notice of the Roman guards, at least when they are on duty.
Christ was born in a cave, in a village where His parents were because of Rome's decree. Now He is dead, in a cave, with guards patrolling His resting place because of Rome's decree. He spent His life caring for disreputable people of no significance; now only disreputable people of no significance are there to mourn.
His disciples are afraid, hiding in the upper room. Those who killed Him are also afraid– so afraid they send guards to patrol in front of the tomb, for fear that Christ could still win.
The women who did not abandon Him are in mourning, but they will be comforted.
This is how it stood on the Sabbath, the last day of the week, at the end of the Way of the Cross and the beginning of what happened next.
(image via Wikimedia Commons)
Steel Magnificat will be meditating on the Way of the Cross on Wednesdays and Fridays throughout Lent. All Stations are linked in this post.