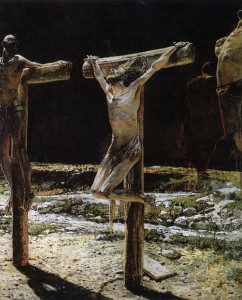 We adore You, O Christ, and we bless You, because by Your Holy Cross You have redeemed the world.
The people stood by and watched; the rulers, meanwhile, sneered at him and said, "He saved others, let him save himself if he is the chosen one, the Messiah of God." Even the soldiers jeered at him. As they approached to offer him wine they called out, "If you are King of the Jews, save yourself." Above him there was an inscription that read, "This is the King of the Jews."

Now one of the criminals hanging there reviled Jesus, saying, "Are you not the Messiah? Save yourself and us." The other, however, rebuking him, said in reply, "Have you no fear of God, for you are subject to the same condemnation? And indeed, we have been condemned justly, for the sentence we received corresponds to our crimes, but this man has done nothing criminal." Then he said, "Jesus, remember me when you come into your kingdom." He replied to him, "Amen, I say to you, today you will be with me in Paradise."

It was now about noon and darkness came over the whole land until three in the afternoon because of an eclipse of the sun. Then the veil of the temple was torn down the middle. Jesus cried out in a loud voice, "Father, into your hands I commend my spirit"; and when he had said this he breathed his last.
It has finally come to this.
Every prophecy, every covenant, every promise, has pointed to this. All of our terrible history began with a tree; now, all of our history has led us to a tree.
By a tree we were destroyed. Our Father tried to warn us. That tree would give us the knowledge of good and evil–because, to know evil, you have to experience evil. And our Father didn't wand us to experience evil. He wanted us to be happy. But we had to see for ourselves. Our Father told us that if evil came into the world, we would surely die, but we had to find out what that meant. So we did evil, and became evil, and evil came upon us, and Man became a thing that turned from God to a tree and died. Christ desired to be one with us, wherever we would go. So, with the Father's blessing, He left His Father's house. He came down from Heaven. He permitted evil to befall Himself, He embraced the tree, and He died.
That tree, long ago, was beautiful, green and covered in sweet fruits. The tree we see now is ugly– it bears no leaves or blossoms. Only one fruit hangs there, the fruit of our sin: the Son of God who loves us, disfigured, ruined, crying out in torment and giving up the Ghost. But those who ate the fruit of the first tree died, and those who eat the flesh of the Son of God will live forever.
All who eat the Fruit of this dark and ugly tree will receive the antidote to the sweet, poisoned fruit from the beautiful tree. And there is a far greater mystery: all who suffer the effects of the beautiful tree will find their suffering transformed by the ugly tree. The weakness, failure, pain and trauma of humankind have been united to the Son of God on the ugly tree. Now, our brokenness is a thing of God, and through our brokenness we will triumph, by the grace of God. O happy fault, that earned so great, so glorious a Redeemer! Our triumph will be greater than the depth of our fall.
We will be with Him, in Paradise.
You and I will be with Him, in Paradise.
You, with all of your pain, your failure, your shame, your ugliness– you will be healed and brought to paradise. You will take your place as the bride of the Son of God. You will find that all of your sufferings have been traded for glory and beauty in paradise.
You are redeemed, by the sign of the ugly tree.
(image via Wikimedia Commons)
Steel Magnificat will be meditating on the Way of the Cross on Wednesdays and Fridays throughout Lent. All Stations are linked in this post.