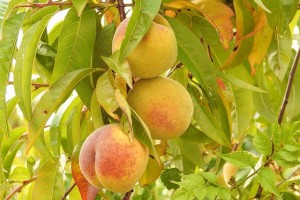 It turns out that my grandpa was not a farmer.
I thought he was, when I was a very little girl. His house was a big brick farmhouse on a triple lot, the biggest plot of land I had ever seen. And on that triple lot was a picture-perfect garden. There were fruit trees on his lot, and a grape alley, a patch for strawberry bushes near the house and a huge patch for vegetables on the far side of the yard. He grew bushels of tomatoes that my grandmother made into glass jars of pasta sauce– not the bland slimy puree that children my age liked to eat, but a chunky and robust sauce for grown-ups. In late summer, he harvested enough peaches to fill the trunk of their van, and my grandmother canned those and made them into cobblers. In my mind, that made him a farmer, just like the farmer grandfathers that always showed up in children's books.
It turns out my grandpa wasn't a professional carpenter, either. I thought he was. He had a roomful of carpentry equipment in the basement, and he made the most brilliant works of art there– cutout life-sized Nativity figures for the lawn at Christmas, playhouses with working porch lights, meticulously accurate Victorian dollhouses with trapdoors and balconies; good sturdy furniture with slick, shiny finish. That was all a hobby, something to keep his hands busy. It wasn't how he made his living.
Grandpa wasn't a brilliant world explorer, either.  I thought he was. He and my grandmother left the country on vacation every year and came back with albums of snapshots of all the places they'd been. They liked to go bird watching in tropical countries, with jungles and strange wildlife. Once, they went to Egypt and brought me back a t-shirt with my name in hieroglyphics. Once, they went on Safari in Kenya. Once they went to Ireland to see where our ancestors came from. Wherever they went, someone would stop my grandpa and ask for directions. He was a man who always looked like he knew what he was doing.
Grandpa liked to explore when he was home in this country, as well. He took his grandchildren to the duck pond, and on walks in the woods. Grandpa knew every bird's name and call; he knew every tree just by looking at its bark. I thought he might be a naturalist.
Grandpa wasn't a professional storyteller, but he could have been. He was brilliant at telling stories. He used to take me on his lap and tell me stories of the summers he spent on his great aunt's farm, in West Virginia, during the Great Depression. One year, it was his job to run and get water from the spring for all the hired hands. One year, he and his siblings had accidentally started a brush fire that burned down a whole field.
When I was very little, I supposed that my grandfather was an actual pioneer and had lived on his aunt's farm in the days of covered wagons and horse-drawn carriages. I was deeply humiliated when my parents found out what I'd thought, but they got a good laugh over it.
It turned out that what Grandpa was, was a doctor– an internist. He worked at the same hospital for fifty years, then officially retired, but kept seeing patients for many more years after that. Lord knows how many lives he saved in all his years at that hospital. He saved my aunt's life, when she called him complaining of severe abdominal pain and he told her to go to the hospital right away.
My mother and her sisters were always calling my grandfather with medical questions. She would call my grandfather before calling my pediatrician every time I managed to convince her I was sick– her first response to my sickness was usually to call me a hypochondriac or tell me I was exaggerating for attention. Once my symptoms got bad enough that she believed I wasn't faking them, she would call my grandfather, who lived six hours away, and describe her version of them. If he said it was serious, I got taken to the pediatrician or the emergency room. My mother would say "My father, who is an internist, said…" and the doctor would diagnose me with what he heard the internist had said. Rare is the doctor who will go against an internist, even when that internist is six hours away.