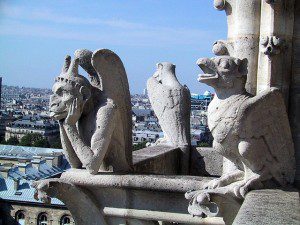 (Yes, I am aware that this image is of the wrong Notre Dame.) 
I woke up in the morning on the first full day of the Trying To Say God Conference at the beautiful University of Notre Dame in exotic South Bend, Indiana. I swallowed my various anti-chronic-fatigue tonics and a bottle of Starbucks Cold Brew; thus fortified, I attempted to find DiBartolo Hall before continental breakfast was over.
For anyone else who ends up wandering the labyrinth that is Notre Dame's campus, here's a tip: of the hundred or so stately yellow-brick buildings at Notre Dame, DeBartolo Hall is the slightly modern one with the greenish roof. Also, it's always the opposite direction from the one you walk in when you leave the dorm. Always. To intend to walk toward DeBartolo Hall is to walk away from DeBartolo Hall. I don't know how that's possible, but it happened every time. Maybe the campus layout was designed by Lewis Carroll.
Miraculously, I made it. A very nice lady from catering opened a brand new tub of yogurt so I'd have something that was definitely gluten-free for breakfast, and I gobbled it before ducking into a classroom for the first session. DeBartolo Hall has a lot of amphitheater-style classrooms built on an incline, with nifty rolling chairs that make you feel like you're going to crash down the stairs and smash headlong into the blackboard. It's a good way to keep students and conferencegoers awake after continental breakfast at eight-thirty in the morning.
All the conference sessions sounded delightful, so I chose one at random for each time slot and was never disappointed.
First, I listened to "Trying to Say God Without Sounding Like Marilynne Robinson" by Randy Boyagoda of Saint Michael's College in Toronto. He read aloud from his upcoming novel, Original Prin, which sounds like great fun and when it comes out I'll do a book review here on the blog.
Next, I listened to "Ever Ancient, Ever New: The Relevance of Icons in a Digital World" by Joseph Malham, an iconographer and the artist-in-residence at Saint Gregory the Great parish in Chicago. Frequent readers of this blog know how devoted I am to icons and that I'm an amateur iconographer myself. I was only sorry the lecture was an hour; I could have listened for days. Malham leads regular iconography workshops for adults and children at his parish, if anyone local wants to check him out.
In the third session I listened to a panel discussion, "Finding the Sacred in the Profane: The Role of Vulgarity in Religious Art" chaired by Rebecca Bratten Weiss, Jonathan Ryan and the author John Farrell. This was delightful, a deeply thoughtful discussion of extreme content in the arts from a faithful Catholic perspective. Someone said the word "vagina," but I won't tattle on who.
Then it was lunch break, and I was turned loose on the Notre Dame campus again. I was supposed to stand around acting witty and making valuable professional connections with the writers and publishers, but I just couldn't. You see, Notre Dame has TREES. Trees beyond your wildest dreams. Trees beyond the limits of avarice. Gorgeous, respectable, venerable old trees, trees that look like they'd spy on you for the White Witch or turn out to be ents. Walking around Notre Dame is like hiking in an arboretum. I lost myself for over an hour, hugging trees, talking to trees, saying "Notre Dame has the most beautiful trees!" over and over to bemused summer students. By this method, I eventually ended up at the Huddle Food Court with the world's only friendly and chatty Subway personnel, who graciously changed their gloves and made me a gluten-free salad. For anyone who gets lost at Notre Dame: the Huddle Food Court is right near the giant gold dome, and it's the only building that's made of solid yellow brick instead of brownish yellow brick. It has an extravagantly expensive grocery store with lots of Udi's cookies. Fortify yourself, because when you leave, you'll get lost again.
After a few tries, I made my way back to DeBartolo Hall. I listened to "Fiction, Research and Inspiration" by Professor Valerie Sayers, whose novel The Powers sounds like a thoughtful and gripping piece of historic fiction I'm going to pick up the next time I'm at the library.
After that I was so exhausted I skipped the next session and went back to the dormitory for a nap. It only took me a few tries to find it.
I rolled out of bed to attend the wine-and-canapes reception and try making professional friendships again. You can read about my failure to do that and subsequent numinous experience in yesterday's blog post. 
Next there was supposed to be a concert, a reading by the brilliant Heather King and an Open Mic Night, but I was still having my numinous experience and then it took half an hour to figure out how to get back to the dorm. I got another gluten-free hamburger to go from the Morris Inn, and ate it in bed while writing. For anyone who gets lost at Notre Dame: the Morris Inn is the place where a valet tries to take your car away if you pull up in front of it. It has a great restaurant.
Next time: the dramatic conclusion. Did I find my way back to DeBartolo Hall? Did I manage to impress anyone or make professional friendships? Tune in tomorrow to find out.
(image via Pixabay)