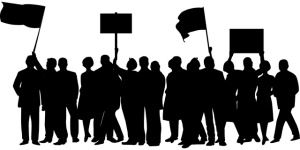 The group "Christian Ethicists Without Borders" has released a statement condemning the recent terrorist attack in Charlottesville and all racism and White Supremacy movements. It has been signed by ethicists from many Christian denominations, including many notable Catholics. I'm not a professional ethicist, but I do heartily endorse every word of this statement. Here is an excerpt:
White supremacy and racism deny the dignity of each human being revealed through the Incarnation. The evil of white supremacy and racism must be brought face-to-face before the figure of Jesus Christ, who cannot be confined to any one culture or nationality. Through faith we proclaim that God the Creator is the origin of all human persons. In the words of Frederick Douglass, "Between the Christianity of this land and the Christianity of Christ, I recognize the widest possible difference."

The greatest commandments, as Jesus taught and exemplified, are to love God and to love our neighbor as ourselves; and so as children of God, and sisters and brothers to all, we hold the following:
We reject racism and anti-Semitism, which are radical evils that Christianity must actively resist.

We reject the sinful white supremacy at the heart of the "Alt Right" movement as Christian heresy.

We reject the idolatrous notion of a national god. God cannot be reduced to "America's god."

We reject the "America First" doctrine, which is a pernicious and idolatrous error. It foolishly asks Americans to replace the worship of God with the worship of the nation, poisons both our religious traditions and virtuous American patriotism, and isolates this country from the community of nations. Such nationalism erodes our civic and religious life, and fuels xenophobic and racist attacks against immigrants and religious minorities, including our Jewish and Muslim neighbors.

We confess that all human beings possess God-given dignity and are members of one human family, regardless of race, ethnicity, religion, or country of origin.

We proclaim that the gospel of Jesus Christ has social and political implications. Those who claim salvation in Jesus Christ, therefore, must publicly name evil, actively resist it, and demonstrate a world of harmony and justice in the midst of racial, religious and indeed all forms of human diversity.
The entire statement can be found here. If any of my readers are ethicists, I encourage you to add your name to the list.
I have seen far too many of my fellow Catholics silent or making excuses in the face of white supremacy over this weekend and indeed over the past few years. Racism is a sin that is becoming more and more prominent in our society, with less and less resistance. My fellow Catholics ought to be on the front lines of opposition to the grievous sin of racism which tears at the heart of Christ, and it sickens me how often I've seen them looking away.
Now is the time to stand together with all Christians and all women and men of goodwill, to fight against the cancer of white supremacy.
(image via Pixabay)