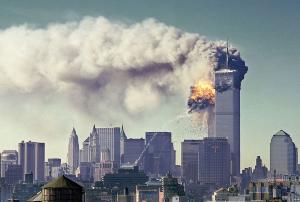 It was a sunny Tuesday morning. On the news, someone was interviewing the Duchess of York. She had just smiled and nodded demurely, and referred to "making a complete nonsense of my life." The reporter interviewing her remarked upon the phrase, "a complete nonsense.' The Duchess nodded demurely again.
Then they broke in with a live news story.
Diane Sawyer said, in guarded terms, that there was 'some sort of explosion at the World Trade Center." It was exactly 8:51 AM.
At first, reporters kept on repeating they had no idea whether the "explosion" was the result of terrorism or some sort of accident. There were rumors of an aircraft, but they were loath to admit that either.
The question was settled twelve minutes later, on live television, when a second plane hit the other tower.
The rest is history, chillingly preserved for us on a thousand videos and photographs. I didn't watch all the television coverage at the time; as I've written before, I didn't know what was happening until after the first tower had fallen– the events were halfway over.
Today I've been watching videos of everything I missed and the things I saw trying to remember the way that it felt. That surreal, gripping anxiety, anxiety so sudden and deep it overrode all of my senses, like the shock of gallons of ice water poured suddenly over a prisoner's head. We didn't know what was happening. We didn't know, at first, who our enemy was. The people who lived close by had no idea whether their loved ones were dead or alive. People in other states had no idea if they, too, would be attacked. Nobody knew anything.
Then we got the word that the Pentagon was also burning. Then a report, which turned out to be false, of a car bomb at the White House. Terrorist attacks in multiple states; not one or two terrorist attacks but more. No one knew how many it would be. The whole country was under attack.
The planes were grounded. The phone lines were jammed. We were all stranded.
Then the first tower collapsed. The facade, the burned skin of the building, flaked off in puffs of dust that descended as they expanded like some kind of reverse firework, and Manhattan was enveloped in a cloud.
And everyone was running.
We who were far away saw it on television: cameramen deserting newscasters and running, the camera showing dress shoes vainly struggling to outrun the dust. People in their good clothes, screaming and running away– they emerged from the cloud several blocks away, shocked, dirty, covered in a uniform layer of white particles. Some of them looked as if they'd been turned to stone.
I was petrified myself, just watching on television. I can't imagine what they themselves felt.
And then the second tower collapsed.
And then the report came in that another plane had crashed, this one into a field instead of a building.
We had no idea whether that would be the end or not.
Do you remember that feeling? That horrible fear, the grief, the trauma? Remember how quickly trauma was turned to anger, and anger aggravated paranoia and bigotry? How so many of us had that anger maneuvered into crying for blood, declaring wars on abstract nouns, wars on countries whose citizens hadn't hijacked those planes? How long it took so many to admit the wars were at minimum horrendously handled, if they hadn't been wrong from the start?
I was the worst of anyone. I was a red-hot conservative in those days, inasmuch as a homeschooled sixteen-year-old can really be said to hold serious political views rather than parroting her surroundings. I was fond of phrases like "law and order" and "patriot." I was eager for any war that would give me a feeling of safety, of agency, of not being vulnerable to that trauma and grief ever again. I wanted those bloodthirsty foreigners to be stopped, at any cost. I wanted war.
Quite a few of us wanted war, and war is what we got.
Those wars are still ongoing, sixteen years later. Millions of lives have been lost. Children who were infants when their parents left home to fight that war are old enough to fight it themselves, now.
Suffering ought to deepen our empathy. So I beg you to remember: some people feel the terror of 9/11 all the time.
There are countries where terrorist attacks happen all the time. There are countries where the news is regularly interrupted by horrors; where the citizens regularly watch in mounting shock, wondering where their loved ones are, wondering how long this attack will last. There are places in this world where every day, you hear of a bombing and civilians killed. There are places where every day is 9/11.
In some of those places, we are the aggressor. We, the United States, and the choices we made in our fear.
There are teenagers here in the United States, going to High School, worrying about their drivers' exam, who have never lived in a pre-9/11 world. There are other teenagers, of no less value in the eyes of God, in other parts of the world, who have never lived a day of their lives without the fear of an American drone attack. And there are those who have lived their whole lives in fear of suicide bombers, drug cartels, gangs; and in fear of the military and law enforcement trying to curtail those bombers, cartels and gangs and not caring who they kill along the way.
There are people all over the world who say goodbye to their families on the way to work, and don't know if they'll see them again in the evening. There are families who quake in terror when their loved ones are late coming home from work, just as we were in terror on that day, because there's a very good chance that they have been killed.
Knowing this– remembering how it felt, how it turned so many hearts to violence– can we lack compassion for anyone? Even for the violent and for those who wish us harm?
And if we can find compassion… might we act differently?
I don't know. It could be that everything would turn out the same way: the same fear, the same grief and anxiety, the same mounting anger. Perhaps, in the end, the numbers of the dead and suffering would be the same.
Well, of course they would. One way or another, everyone suffers and dies.
But it could be that the world would look completely different, if enough of us remembered empathy. If we remembered what it's like to suffer that fear, and that people around the world are suffering it all the time. And if we let that, rather than the anger dictated by fear, govern our actions– perhaps there could be a significant change.
It could be.
I think we ought to try.
(image via Wikimedia Commons)