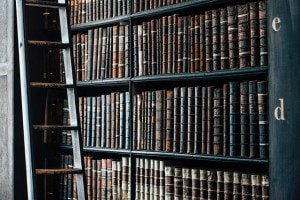 I went down to The Friendship Room with Rose, to drop off our widow's mite. Guests were there, smiling as they usually do. Steubenville is a very rough place. Having somewhere you're allowed to go inside and feel welcome is, in itself, a cause for celebration.
While we waited for our bag to be unpacked, Rose admired the pets– the Friendship Room has two finches and a tank of guppies, which are a necessity. There's precious little to do for fun downtown, and nothing at all to do when you're homeless or so poor you might as well be. Television, internet, video games and even hopping a bus to the library cost money– not to mention, you may not be able to get a library card if you don't have an address. The very poor who have jobs have no way to unwind after work; the guests who are too disabled to work have nothing to pass the time all day long. Along with food, companionship, shelter in the winter, clothing and trips to the hospital, the Friendship Room tries to provide recreation. They have fish and birds for the guests to watch and talk to. They have card games. In the summer, they use a projector and a bed sheet for "Movie Night" in the yard. And, recently, they've added a tiny library.
This was the first time I'd seen the library. I smiled at the brightly colored waterproof cupboard bolted to the front porch, so that anyone could take or leave a book as they passed by.
I smiled less when I looked inside.
The Friendship Room does not proselytize. They know that many of the guests have been abused by Christians and they want them to feel safe, so they live the Gospel in their actions rather than forcing it down anyone's throat. There are no mandatory prayers, no compulsory Bible studies and they certainly don't hand out tracts. But they survive on donations, and can only provide the guests what they're donated. Apparently, someone had donated several identical copies of the third volume of a book on the Fatima prophecies, a few prayer books, a battered paperback of Matthew Kelly's Rediscover Jesus which I recognized from a free church giveaway, some severely weathered children's magazines of Bible stories, a brand new copy of Dreher's The Benedict Option, and one disintegrating cookbook from the 1980s. That was all there was.
Yes. Somebody donated The Benedict Option to the homeless.
My heart sank. Somehow, the contents of the free library looked more boring than having nothing to read at all.
I asked Molly about it. She said she'd love more books and more variety. People always took classic books, Bibles and good children's books when they were available.
Since it's set up on the honor system for anyone to drop off or take a book, and since homeless people don't necessarily know where they're going to be when they finish reading and may not be able to get the book back safely, it doesn't seem to me that having too many books to give away would be an immediate problem. The worst that could happen is that they'd need someone to donate a bookcase or two as well.
Would my readers please help me with this work of mercy?
Could we all work together and stock up a proper, well-rounded little community library for the deeply impoverished people at the Friendship Room? Rather than sloughing off unwanted cookbooks or proselytizing things, how about sending some novels, classics, picture books, chapter books for older children, poetry collections, nonfiction that's actually fun to read, and all in reasonably good condition? You can send Bibles since they asked, and theology-type books too, if they're the sort of book you'd like to read yourself, but think about what you'd like to find if your only entertainment was a free library. Let's live the gospel by feeding the hungry a balanced and entertaining literary diet.
If you don't happen to live nearby, Molly says it's fine to mail them books. You can send them, and any monetary or other donations, to: Center of Hope/Friendship Room, PO Box 53, Steubenville, Oh, 43952. If you want to skip the post office and buy them some new books on Amazon, bear in mind that you can go to smile.amazon.com, select "Center of Hope Friendship Room" as your charity, then shop as you normally would and have the books shipped to them, and they will receive a small donation from that purchase at no cost to you. Please don't mail them other large things like donations of random old clothes, because they are a small building and don't have storage space for them. And you can keep an eye on whatever the immediate needs of the Friendship Room are by following them on Facebook.
Thank you all in advance for helping to ease some of the suffering of poor!
(image via Pixabay)