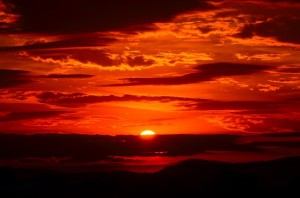 As usual, I've got good news and bad news.
The good news is that Christ is Lord of Heaven and Earth and He is coming back.
The bad news is that that move to West Virginia I was talking about at the beginning of the summer, which should have taken place twice over by now, has fallen through for the moment and we may be stuck in Ohio at least as late as February. And we may be paying rent on the delightful character-filled rental house next door to the knife-wielding Miss Manners until at least February. Which we couldn't afford in the first place and really can't now. I've got my interview to renew  fargin' Ohio ebt assistance this week, we're stuck. My prayer request to you is to beseech the Lord that nothing else goes wrong, that we can get to the other side of the valley to a better living arrangement with Michael's mother as soon as possible. Through the intercession of Saint Joseph and Saint Nicholas, get me out of here!
And I'll go back to making art later today, I promise, I've got a fun Rosie story to tell, but for a moment I've got to toot my own horn and busk for tips.
Lord knows I'm all kinds of pretentious, but I'm not the kind who pretends my blog is an "apostolate" or an "institute" and you're all giving me "donations" to help in a bleeding culture war. This is a blog, where Michael and I make art and preach justice for the poor and sometimes write book or film reviews. I'm home bound about half the time with my autoimmune disorder; Michael is my stay-at-home caregiver and the one who raises my daughter when I have to be sick in bed sixteen hours a day, so we work from home as writers and we busk for tips to keep writing. We get a very small check from Patheos for the number of clicks we garner, but our chief source of income besides begging already-strapped relatives for help is blog tips. You guys keep the lights on, we keep providing art and sermons– hopefully both in the same post. And my readers have been wonderful about showing their appreciation, both through sharing my posts and through tips. We're often buried in an avalanche of little five-and-ten-dollar gifts in the online tip jar. Some months we scrape by. Some months I feel like we're rich.
This is a not-rich month, the utility companies are angry with us again, and we've got to find a way to keep writing for tips in Ohio for a few more months until God delivers us so we can write for tips in West Virginia. So, if you like what you read here, give me a tip. If you don't like what you read but want to be nice anyway, give me a tip. If you want to tell me what a horrible parasite I am for needing to use ebt, I'm told Paypal provides a memo box when you send money, so you can cuss me out in private after you give me a tip and no one will know but me.
How do you do it? Read carefully, it's changed since the new website layout. There is no longer a button on the side of the page for PC users, and the button is not a tacky shade of yellow anymore. Go to the top of my page, under the now-much-smaller Steel Magnificat banner. Click on the "donate" tab. Click on the white rectangle that says "PayPal: the safer, easier way to pay online!" You'll be taken to a page that says "Donate to the Little Portion," which is the name I call my house and so I named my PayPal account that too. PayPal will walk you through everything else.
Thank you all very much once again! Now, back to your regularly scheduled blogging.
(image via pixabay)