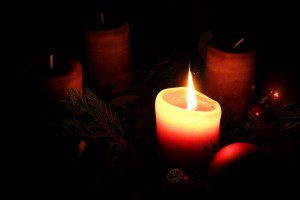 As I write this, we are six hours away from the start of Philip's Fast in the Byzantine Catholic Church– forty days to Christmas. Latins have until December third but I don't see that they can't start praying with us now.
I'd like to invite everyone to join Steel Magnificat for prayer and almsgiving this season. For prayer, I'll be posting a series of meditations on the Sorrows and Joys of Mary, one every two or three days to get them all done before Christmas, similar to my series on the Way of the Cross last Lent. That starts tomorrow.
For almsgiving, please join me in adopting Molly's homeless guests at the Friendship Room for Christmas gifts. Here's what we're going to do. Everybody has to go shopping for Christmas. I don't care how organized you are, you're going to end up going shopping for treats for family, friends and yourself several times between now and Christmas, you're going to end up at the dollar store with a cart full of impulse-purchased Christmas ornaments, you're at minimum going to grocery shop several times. I'm asking you to turn that shopping into an opportunity to help the poor. As you shop for yourself, pray for the poor, and grab one or a few small items for a care package for a homeless person. Let the Holy Ghost direct you about what to put in your cart. Buy things of the same quality that you'd buy for yourself.
Molly said that the most needed items are flashlights, single razors, chap sticks, hand warmers, can openers, warm hats and gloves, ibuprofen, single wipe cleaning pads, and small packs of Kleenex. Check to see if it's legal to mail over-the-counter medicines in your state, and leave out the ibupofen if it's not legal to send it. You can also buy non-perishable snacks that are easy to chew, little adult coloring books and pencils, warm new socks, little packages of hand cream, a backpack to keep it all in, re-usable water bottles, travel mugs, anything like that. Don't buy strong-smelling soaps because this will make all the food smell like soap, and because shelters that provide showers already have soap. Don't buy things containing alcohol like mouth wash and alcohol-based hand sanitizer either, just in case, and don't buy food that's sticky or difficult to chew because homeless people often have dental problems.
When you get home from shopping, put these items someplace you'll remember. You might put them in a box you or your children decorated near your advent wreath or icon corner. You might put them all in the manger of your Nativity scene, if you've got a big manger and you're the type who likes to not put Baby Jesus in the manger until Christmas morning. You might put them in a big gift bag because you're not the crafty type and it's easier to buy a festive container ready made. Put them near the place that you pray, and pray for the poor every time you do.
Near Christmas, when you're rushing to the post office anyway, take all the items from wherever you've put them, arrange them into one or several care packages, wrap them as nicely as you would a gift for your dearest friend, and mark whether they're for a male or female guest. Pray for the poor as you do. Then ship them to:
The Friendship Room
419 Logan Street
Steubenville, OH
43952.
Molly will give them to her guests at their annual party on Christmas day.
If you forget to ship your care packages by Christmas, no big deal, Christmas lasts for quite some time, just send them as soon as you remember.
Thank you so much for journeying with us during this sacred season.
(image via Pixabay)