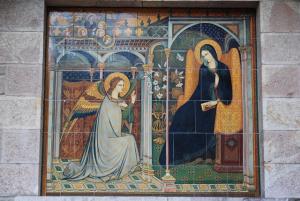 The centuries-old prophecy has been fulfilled.
The Virgin has conceived, and will bear a Son.
Unto us a Son is given.
The One who saw Satan fall like lightning to the sky, has descended of His own will into the Valley of Shadow, to pitch his tent among the exiles.
The Wisdom that played upon the waters before they came to rest beneath the firmament, has entered the waters again. He has entered a womb.
The womb belongs to a poor young woman from an occupied land, pledged to marry a carpenter. She is, in the eyes of the world, less than nothing. She is the only child of her parents, in a culture that judged a couple's virtue by how many children they brought forth. She is a daughter, in a culture that held daughters as worth far less than sons. She is of a race that has been enslaved to someone or other for as long as anyone can remember. She was hidden in the temple from the time she was three years old, doing nothing the world would hold of value. If you glimpsed this young woman going about her duties in the temple, you wouldn't give her a second look. She herself would be embarrassed if you did.
Her name is Miriam. It is also Mary, Marie, Maria, Mairi, Molly, Maren, Marian, Muire, Mara, Marika, Mariamma, Marigold, Lily, Rose, Sophia, Luz, Dolores, Blanche, Blanca, Immaculee, Estrella, Guadelupe, Lourdes, Fatima– people will name their daughters and even their sons after her, her attributes, symbols of her and the places where she was particularly honored forevermore. The name will change every time a new tongue calls her blessed. Let's say that it was Miriam at first.
Someone is looking at her. No doubt she's embarrassed. The person looking at her is very important indeed. The person is neither a woman nor a man; the person is an angel whose name means "God is Mighty."
Angels in Heaven see as God sees. They cannot lie or be mistaken. If an archangel greets a woman as if she is a slave, you can be certain she's a slave. If an archangel greets a woman as queen, that woman is a queen regardless of what the world sees.
"Ave, Full of Grace. The Lord is with you."
Ave is the proper address for a queen. Miriam is a queen full of grace, and the Lord is with her– of that, we can no longer be mistaken. Appearances mean nothing. Archangels see as God sees, and God sees the heart.
Mary is frightened– not embarrassed anymore, frightened. She believes the angel; she accepts that God regards her as a queen full of grace, and that's frightening to someone who assumed she was less than nothing.
"Do not be afraid, Miriam." Mary. Marika. Sophia. Rose. "You have found favor with God. You will conceive and bear a son, and you are to call him Jesus."
Jesus. That's a Name that's taken quite a few changes as well, even more changes than Miriam. It was, originally, closer to Yehoshua, the same thing that gets translated as "Joshua." It means "The Lord Saves."
"You will conceive and bear a son, and you are to call him The Lord Saves. He will be great and will be called the Son of the Most High. The Lord God will give him the throne of his father David, and he will reign over Jacob's descendants forever; of his kingdom there will be no end."
Miriam takes the angel's word that she is a queen full of grace; she has always known that the Lord was with her. She believes a son will come to her, a great son, Son of the Most High, who will mount the throne of her ancient ancestor and have an everlasting kingdom, despite the fact that the world sees her as nothing. If the Lord's messenger says this, it must be true. She only wonders how God will bring it about, biologically speaking. "How can this be, since I am a virgin?"
"The Holy Spirit will come on you, and the power of the Most High will overshadow you. So the holy one to be born will be called the Son of God. Even Elizabeth your relative is going to have a child in her old age, and she who was said to be unable to conceive is in her sixth month. For no word from God will ever fail."
She believes, and accepts.
"I am the handmaid of the Lord," she says, for even a queen full of grace is a servant to the Lord of Hosts. "Be it done unto me according to your word."
Then the angel leaves her, but someone else is there– Someone who had always been with her, but is with her now in a new way.
No mortal tongue can tell her joy at that moment. Her joy is the Joy of all of Heaven, the Delight of the Father made flesh in her womb. She is a queen full of grace, the Lord is with her, and now the Lord is inside her.
Unto her, a Son is given.
She is a queen. She is full of grace. And from this moment for the rest of eternity, she is something else.
She is a mother.
(image via Pixabay)
Steel Magnificat will be meditating on the Seven Joys and Seven Sorrows of Mary throughout the Nativity Fast.)