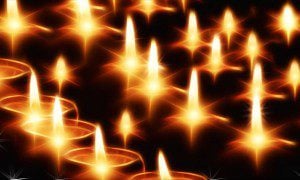 It wasn't All Saints' Day yesterday– not for me, in the tradition I follow now. And it's not All Souls' Day today, no more than it usually is. Eastern Catholics celebrate All Saints on the first Sunday after Pentecost. We intercede for all souls at a series of Saturdays during Great Lent and Easter.
I went to my first All Souls Saturday liturgy earlier this year. Toward the end, the priest chants a petition for God to have mercy on the souls of– and then he chants the name of every deceased friend or relative the parishioners have written on a list. All of them. It takes a full five minutes at least. While he stumbles over name after name, the cantor softly chants "Lord have mercy, Lord have mercy, Lord have mercy" over and over again.
I listened carefully for the souls I had written on the list. There must be fifty deceased family members of the parish named Michael, but there was only one "Charles" and only one "Danny," so I know the priest remembered them. Lord have mercy, Lord have mercy, Lord have mercy.
I know that God remembers their names without being asked– still, somehow, He prefers that we ask Him to remember them. He would like us to write their names down for the priest to chant aloud, and sing "Lord have mercy, Lord have mercy, Lord have mercy." He would like us to chant Vichnaya Pamyat: "Eternal memory, eternal memory, blessed repose and eternal memory."
It's for our sake, of course. Everything He wants us to do is. Exactly how it works is a mystery, but it is a very good thing to pray for the departed. It's good to ask for the mercy the Father loves to grant, for the souls of the departed, and mention each of their names even though it takes a long time. It's good for those souls, and it's good for us. It's also good to pray with the souls who have made it to Paradise and are interceding for us to join them.
I constantly pray through the intercession of the Theotokos, the Seven who Enter and Serve, Saint Nicholas, Saint Basil, Saint John Chrysostom, John the Baptist, Moses the Black, Cyril and Methodius, Elijah, Joseph the Patriarch, Joseph the Foster-Father, Boris and Gleb, Margaret of Castello, Venerable Dorothy Day, Venerable Nicholas Black Elk and all the saints in paradise.
I constantly pray for the souls of both my grandfathers– the gentle and kind gardener and the ne'er-do-well who kept a mistress for forty years. I pray for the mistress as well, though I don't know if she's dead yet. I pray for my deceased grandmother, and for my great-grandmother who was either a healer or something else. I pray for my other great-grandmother, the daughter of Irish immigrants who was rescued from a third-story window when the slums of Franklinton flooded a hundred years ago. I pray for my deceased ancestors about whom I know nothing. I pray for the ghost they say haunted the dorm I lived in when I first came to Steubenville. I pray for all the souls whose names I heard chanted on All Souls Saturdays.
I ask you to pray with me for them, and to pray for me. Someday I will also depart from this world. Someday, I hope, a priest will chant my name while a cantor repeats "Lord have mercy," and the congregation prays for eternal memory. Someday, I trust, through the mercy of God, I will be with the saints in Paradise.
Pray for me, and I'll pray for you.
Our Father asks us to pray for one another, because it's good for us.
(image via Pixabay)