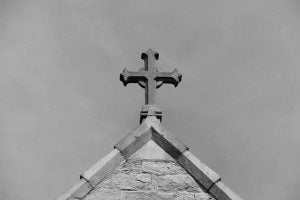 Donna Provencher, one of the women who reported being used sexually and spiritually abused by Jonathan Ryan Weyer last weekend, has posted the following publicly on her Facebook:
The Diocese of Lafayette in Indiana HR lady called me and told me Jonathan is "under investigation" but may or may not be removed and "this is the first she's hearing of it." She also said it was a personnel issue and there would be no way to notify the victims or the public of the outcome of the investigation or whether he continued his employment at St. Alphonsus Ligouri in Zionsville as Pastoral Associate of Evangelization or running youth ministry events. (He just did a horror movie night with the teenagers for Halloween and was I believe the only chaperone.) She refused to give me any contact info for Bishop Doherty.
I informed her that it was fine if she didn't want to notify the public of the outcome of Jonathan's investigation, because I'm sure the press will be calling the diocese and keeping us informed, and it was fine if she didn't want to notify the victims because I'm sure our lawyers will after the diocese is sued by a dozen different women.

Transplanting sex offenders and abusers and allowing them to go quietly into that good night is willfully closing your eyes, spinning the roulette wheel and hoping the OTHER girl gets abused or assaulted. Remember how we already had that whole big scandal about protecting sex offenders? It was a whole thing. Let's not do that again.

So how about protecting those widows and orphans, Bishop Doherty?
I would like to add that, as of the time I'm writing this, the facebook page of Saint Alphonsus Ligouri Catholic Church where Jonathan Ryan Weyer still works (as far as we know) has taken down the photos of him in their Facebook and no longer list him as an employee, so it could be that the matter is already being adequately addressed. But I echo Donna's call for transparency from the diocese. The Church ought to be a place of safety for the young and the vulnerable, which it certainly isn't if they don't take these events seriously and keep the faithful informed.
If you would like to contact Bishop Doherty of the Diocese of Lafayette in Indiana, he can be reached at the following numbers:
(765) 742-0275
(800) 942-2397
And his email address is listed as bishop@dolin.org .