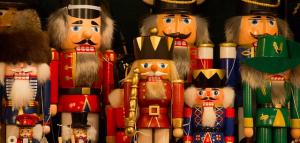 It was bound to happen at some time or other. I'm sorry that it happened during my time, but we don't choose the times in which we live. Still, it's upsetting, even now that it's all over and all is well.
Somebody stole the lifesized David Bowie nutcracker off of municipal property and took it for a joy ride.
What, your town doesn't have a lifesized David Bowie nutcracker on municipal property?
Let me back up and explain.
Every year for at least three years running, Steubenville has done something genuinely fun downtown. Yes, you read that right. Fun in downtown Steubenville. I'm rather famous for being frank about Steubenville's failings; you can trust me to give an honest opinion about everything I see here. And during the Advent and Christmas seasons, the city of Steubenville hosts a tourist attraction that I wouldn't miss for the world. We host the annual Nutcracker Village and Advent Market.
The Advent Market is a circle of plywood booths, which we're supposed to call chalets, which sell Christmas ornaments, handmade decorations, snacks and treats from local vendors. There's always homemade goat milk fudge and local organic honey; there are soaps, candles and crafts. The vendors of goat milk fudge also bring along a pen full of live goats for a petting zoo. Local singers entertain. Some gentleman comes with a flatbed truck to give hayrides. The local bus service drives people around for free in a bus decorated to look like a trolley. I unabashedly love it. I like to pretend I'm at a Christkindlmarkt in a quaint small town somewhere in Germany.
The Nutcracker Village is a display of over a hundred handcrafted six-foot-tall nutcrackers interspersed around the chalets at the Advent Market. Each nutcracker is sponsored by a different local group, and has a different theme. There is a Rat Pack of nutcrackers posing with microphones, since everything in town has to pay homage to Dean Martin. There is a Sherlock Holmes with a deerstalker hat and pipe. There is a beautician nutcracker sponsored by a local beauty shop. There is a bus driver in uniform. There's a policeman, a fireman, a Polish dancer. There's a grim-looking nutcracker made to look like John Calvin, right near a grimmer one made to look like Saint Pio. There's a sword-wielding Saint Paul, a Mother Teresa, a Serbian soldier, Clark Kent, a glorious Magritte with an apple face, a Da Vinci and so on. There is also a nutcracker in 80s face paint, holding a wooden guitar. It's meant to look like David Bowie, but since it's a standard barrel-chested nutcracker with a mustache and long white beard, it doesn't. Still, it has Bowie makeup and it is a fun addition to the Nutcracker Village.
Early this morning at about two o'clock, the David Bowie Nutcracker was stolen.
We know that it was stolen, because the whole thing was caught on tape. You wouldn't just leave a valuable David Bowie nutcracker standing around downtown Steubenville unattended; there are security cameras all over the Nutcracker Village. The security cameras clearly showed the perpetrators dragging the bearded David Bowie idol to their truck and driving it off toward the Market Street Bridge. I am sorry to say that they did not take the grim John Calvin as well. That thing is nightmare-inducing.
Everyone feared the worst, but apparently the crooks just wanted to borrow David Bowie for the day. They returned the nutcracker this very evening, none the worse for wear as far as the news is reporting. The didn't seem to calculate for the fact that the Nutcracker Village is located directly across the street from the Steubenville police department– in fact, some sources are saying they left David Bowie in the police department's parking lot when they brought him back. Our nutcrackers are safe for the nonce, as the perpetrators were taken directly to jail.
I feel like a celebratory musical interlude is in order.
The citizens of Steubenville got our handcrafted David Bowie Nutcracker back, just in time for the vigil Masses for the first Sunday of Advent. Christmas was saved. And Mrs. Pezzulo's grinchy heart grew three sizes that day.
I guess I'd better get that checked. It can't be healthy.
(image via Pixabay)