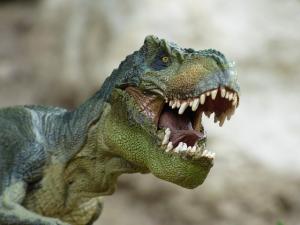 I don't know exactly whose idea it was to come up with an Adventosaurus. My friend just got on Facebook and asked that somebody draw a picture of the Adventosaurus to be an Advent mascot, as if this was a normal thing, and I didn't ask questions. I love arts and crafts.
I also love dinosaurs lately. As I've mentioned before, my daughter is obsessed with dinosaurs, the grislier the better. We love all kinds of books about dinosaurs, educational documentaries about dinosaurs and plastic dinosaur models. We even got to go to the Carnegie museum last month and see real dinosaur skeletons, thus qualifying ourselves as experts.
I also have a fascination with kitschy cute Advent devotionals. Having been raised a Latin Catholic, I love Advent– the mystery, the quiet anticipation, the empty manger, the gradually increasing candles, the dreadful majesty of the O Antiphons. It's my favorite time of year; I like it even better than Christmas itself. I used to despise any attempt to make Advent cute. Advent should be numinous, not cute. But there's always a cleric that wants to make Advent "accessible" to the congregation he presumes is too stupid for the numinous, by making it cute. I've seen so many attempts to make Advent cute that I gave up hating and view them as an anthropologist views a completely foreign culture. I can't understand it, but let me get my clipboard and take notes.
I've seen wreaths that have names: "This year we're going to name the wreath 'hope!" says the cutesy cleric. I've seen priests taking index cards and name-tagging candles– "We'll call them Mary, Joseph, Shepherds and Kings," says the cleric. I've seen wreaths the size of Jacuzzi tubs stood up sideways like stargates, festooned with pink and purple ribbon and set garishly in front of red and green trees. I've seen horrendously tacky creche caves made of crumpled black paper, left up empty for a month at the front of the church. I've heard people singing musical numbers from Godspell instead of hymns. I've heard bongo drums– not djimbe drumming but actual manically-paced bongos. I've heard every prayer and chant set to the tune of the O Antiphons no matter how badly the lyrics scanned.
Once, when I was four years old, I was taken to a children's Advent Mass where the priest preached the homily with the help of a pig-shaped hand-puppet. He asked the pig what he wanted for Christmas, then held the pig to his ear as if he was listening for an answer. He told the children, "He wants a curling iron for his tail."
I think I was sixteen before I got the joke.
I've become a connoisseur of cute Advent kitsch. And I was excited to add to the pool with my own drawing of an Advent-themed dinosaur. I made two, one for Latin Catholics and one for the East. Maybe one of you can get your own parish's resident cute-loving priest to use it as a homiletic aid this Advent. Don't let on that it's a joke.
For the Latin Catholic Church, I give you Mara Natha the Advent Styracosaurus.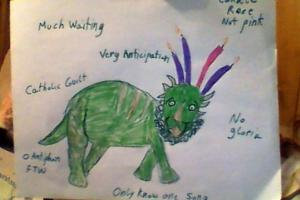 Mara comes to you with four of her majestic horns transformed into wax tapers, three purple and one pink to represent the four Sundays of the Advent season. She's wearing a jaunty evergreen wreath to represent the everlasting love of our Lord. Her body is made of iced gingerbread and her eyes are limited edition Christmas Crunch. And she has a goofy smile, because we wait in joyful hope.
For the Byzantine Catholic contingent, I give you Subdeacon Nicholas Vasily Gregory George Vladimir Glib the Nativity Fast Stegosaurus.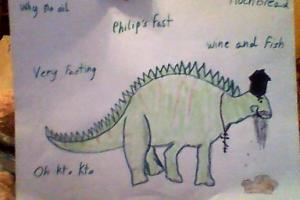 Subdeacon Nick has forty majestic spikes down his back for the forty days of the Nativity Fast. He's wearing a traditional three-bar cross and whatever that black hat is called. That's not slobber on his chin but a dignified beard. His body is made of meatless borscht and stuffed herring. He's eating nothing but bread because of the strict fast, but he's smiling a bit because it's Christmas eve and tomorrow he gets a Kolach. Subdeacon Nick's smile is more dignified than Mara's, because I've never seen an Eastern Saint Philip's Fast liturgy that was overwhelmed with kitsch.
Before you get too excited, I want to stress that I own the rights to these dinosaurs and any money made from Adventosaurus-based merchandise including but not limited to toys, t-shirts, felt banners, Latin Catholic priestly vestments, embossed bongo drums and feature-length movie franchises belongs to me. I am gonna be so rich.
I'm also thinking of publishing a book of Adventosaurus-themed liturgical bongo music, but I can't find a rhyme for "Styracosaurus."
(first image via Pixabay)