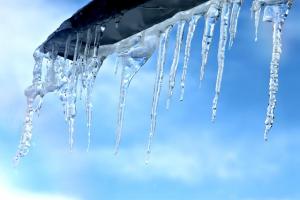 It is bitterly cold in Steubenville. We won't see the other side of freezing for a week, and then it'll likely dip down several more times. It's going to be in the single digits all weekend.
It's never a good time to have to spend the night without adequate warmth. But right now, here in the Ohio Valley, people could easily die from the cold.
The Friendship Room is open 24 hours during the winter months, to shelter people who are without adequate heat. This includes homeless people, but also many people who cannot afford to keep the gas and electricity on in their own homes, or whose homes are in such bad condition that they can't use the furnace. They camp out in unheated apartments most of the time, but in weather like this, they shelter at the Friendship Room. The last time I was there it was packed, and that was when the temperature was just below freezing. We're in the single-digits now– that's about minus fourteen degrees for my readers outside the United States. People are going to be packed in there like sardines. The volunteers are taking in as many people as they can, and offering as much help as they can to people around town as well.
They have just asked on their Facebook page for the following items urgently:
–Adult sized winter wear of all kinds especially gloves
–blankets
–electric space heaters
–Size 4, 5 and 6 diapers.
–Hot soup and other hot things to feed the guests
If you live locally, you can bring them to 419 Logan Street in Steubenville (right beside Saint Peter's Church). If you are out of town, you can mail things to Center of Hope/Friendship Room, PO Box 53, Steubenville, Oh, 43952. If you'd like to rush them some things from Amazon, remember that you can go to smile.amazon.com, select "Center of Hope Friendship Room" as your charity, then shop as you normally would and have the items shipped directly to them, and they will receive a small donation from that purchase at no cost to you. You can also donate cash to them through paypal with this button here so they can quickly buy the items themselves. Other items that the Friendship Room consistently needs are They always need Dawn dish detergent, laundry soap, coffee, powdered creamer, coffee stir sticks and plastic utensils. Please don't send random old clothes or other bulky items they didn't specifically ask for, because they have very little storage space. You can see the Friendship Room's day-to-day needs by following them on Facebook.
Thank you very much as always for comforting and sheltering Christ in the poor.
(image via Pixabay)