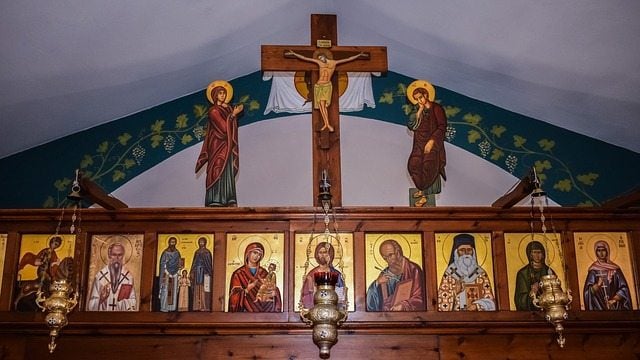 My favorite time of year is almost here.
Yes, I'm that weirdo who actually really loves Lent. I loved it when I was a Latin Catholic; I love it now that I'm in the middle of transferring rites to the East as well. I love the air of solemnness and introspection. I love the Way of the Cross. I love the Liturgy of the Presanctified Gifts. I love how Lent forces us to face realities like suffering that most of us would prefer to pretend never happen or to explain away with mush. I love that most every church makes an effort to have more confession times available; it's a great blessing for those of us who don't happen to be able to get to a church at ten o'clock on a Saturday. I love fish. Lent is a blessing and I can't wait to get started.
Eastern Catholics have that fun confusion with the dual stereo calendars, which I never seem to get quite right, but I'm 98% sure that Lent in my eparchy will start at Vespers tomorrow. For Eastern Christians on the "other" calendar it starts next week, and Latin Catholics have it easy– it starts right after Mardi Gras, the same as always.
I would like to invite all of you to join Steel Magnificat in prayer and almsgiving this Lent. For prayer, I'll be re-sharing the Stations of the Cross meditations I wrote last year on Wednesdays and Fridays on the Steel Magnificat Facebook page, or you can just read them all here whenever you go to pray a Way of the Cross yourself. In addition I will be posting brand new meditations on the Seven Last Words of Christ every Monday starting this Monday and ending on Monday of Holy Week.
For almsgiving, I'm going to keep an extra close eye on the needs of my homeless and low-income friends downtown at the Friendship Room, and I'm going to post updates at least once a week about how you can help them with their daily needs– either by bringing things if you're local, or by donating money or having needed items shipped if you don't happen to live in the Ohio Valley. If you'd prefer, these updates can also serve as reminders to donate to a homeless shelter, a Catholic Worker House or similar in your own community. Christ is suffering with the poor all over this world; if we want to repent of our apathy and go serve Him, we're spoiled for choice as to where He can be found.
Thank you very much for joining me in this Lenten journey once again.
(Image via Pixabay)