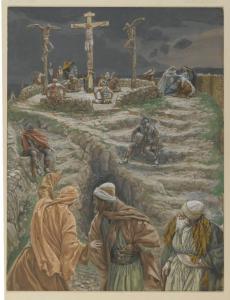 No one could understand what the dying man was saying.
They thought He was calling Elijah.
The Lord of Heaven and Earth took flesh in order to be with His beloved, and was given a blasphemer's execution. He cried out in horror that God had abandoned Him, and no one understood.
God is everywhere present. There is nowhere any man could be that He is not, not even in the pit of hell. God cannot deceive nor be deceived. There is no hidden thing that the Lord of Heaven and Earth does not know.
Yet, here is God, the Lord of Heaven and Earth, crying out that He is abandoned by God.
This horrendous paradox is something that cannot be denied. God Himself drew it to our attention. It happened to Him.  It happens to every person. The Heavenly King is everywhere present and filling all things, yet there will come a time when we cannot find Him.
God is everywhere, and His presence can be found in anything. You will find Him in nature. You will find Him in art. You will find Him in family and community, in learning, in logic, in the most mundane of day-to-day tasks. You will find Him in silence and in music, in the monastery and on the battlefield. You will find Him in suffering and monotony. If you seek Him, you will find Him hidden in every aspect of your life, and you won't understand why you didn't see Him before.
But the day will come, in every spiritual journey, when you cannot find Him at all.
No matter what you believed before; no matter how many logical arguments you know, how many apologetics texts you read, how rich your spiritual life, how deep your prayer and your charity, the day will come when you cannot see Him.
And the people around you will not understand.
They might not presume you're calling Elijah, but they won't understand. This seems to be written into the process as well. The people around you will tell you apologetics arguments that you already know. They'll scold and quote adages. They'll ask if you might be in sin or neglecting your prayer life.
You'll find yourself alone, by all appearances abandoned even by God. That will happen. And it will hurt. It will be excruciating– ex crucio, the pain of the cross.
But God will still be there.
And what's more, God will have been there. God will be there, invisible, eternally present and filling all things, but God will also be with you as a friend and a lover who has been there, personally, at one point in history, when He came to earth to be human with you and suffer what you suffered.
That is the terrible consolation of Christianity– not that the Cross makes all our earthly suffering go away, but that all of our human experiences, good and bad, become Godly things, because God became man and suffered them as well.  There is nothing you can undergo, which God does not undergo with you. And there is nothing you can suffer, that God does not suffer with you.
Not even the profound darkness of the feeling that you are cut off from God, or the feeling God was never there at all.
(image via Wikimedia Commons)