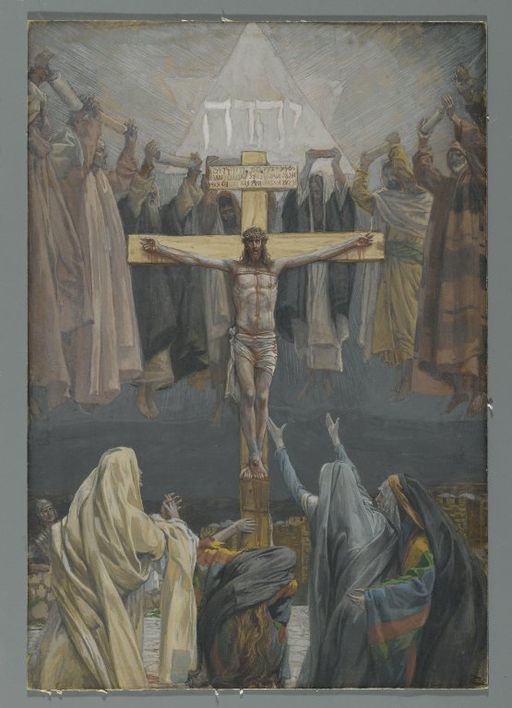 After He had drunk the wine, Jesus said, "It is consummated."
It was just one night ago, in the Upper Room, that Jesus said "Truly, I say to you, I will not drink again of the fruit of the vine until that day when I drink it new in the kingdom of God." Then they sung a hymn, and went out to the Mount of Olives, and the Passion of Christ began.
Now, it is consummated, and He is drinking the fruit of the vine.
He is drinking it new in the Kingdom of God.
Now, the Kingdom of God is come. Now– not at some future time. Today. Now the Christ is come, now His kingdom is manifest on Earth, now the Wedding Feast of the Lamb has begun. Today, Holy and Great Friday, the most terrible day, the Kingdom of God is come.
Now we see Him with our own eyes. Now we touch Him with our own hands. Whether we sell Him, buy Him, trade Him for a murderer or kneel and worship Him is up to us. Whether our gestures of homage are mockery or adoration, whether we make Him bleed or wipe the blood away is up to us. Whether we are known for all of history as a traitor or a saint is our choice, because the Kingdom of God is come today.
The Son of Man is lifted up from the earth, and has gathered all people to Himself.
All of humanity is here.
You and I are here.
What we do is our own choice.
He will not stop you from blaspheming, if that is what you truly want to do. He will not stop you from mocking Him. You may revile, scream, attack, spit. This is permitted, today, if that is what you wish.
But if you wish, you may be His bride.
He longs for you to be His bride, but He will not force you.
You may approach the cross with fear of God and with faith, and you will be lifted up. The Son of Man will receive you– all of you. Your passion will be united to His passion, your cross to His cross. Your body to His body, your soul to His soul, your breath to His breath, your heart to His Heart. Your pain will be united to His pain, your rejection to His rejection, your loneliness to His loneliness, your despair to His despair, your sin to His mercy. All that is yours will become His, His own, a thing of God, a holy, sanctified thing. And then He will bestow all that He has on you– His triumph will be your triumph, His glory your glory, His resurrection your resurrection. His crown, His table, His place at His father's side, His wedding feast will be yours, if that is what you wish.
Nothing anyone can do to you will separate you from your Beloved. Nothing anyone else can do will make you unclean.Nothing you suffer will fail to be a source of great glory, even when you descend to the dead. You are the bride of Christ. Your passion is the passion of Christ, your death the death of Christ, and your resurrection the resurrection of Christ. Christ dwells in you, Christ is alive in you, Christ will triumph through you.
Those who only came to torture and abuse thought they had won, but the victory is with those who gave themselves to Christ.
Salvation, Glory and Power to our God. It is consummated. The marriage is sealed for all time. Whatever should come later, the bride is united to the Bridegroom until the end of the age.
(image via Wikimedia Commons)