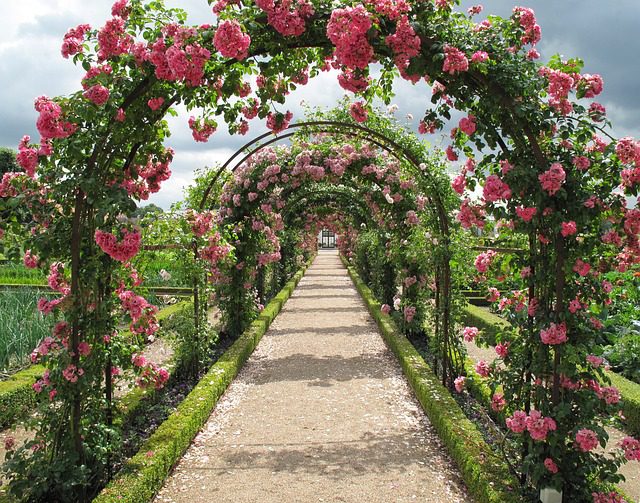 Jesus said to his disciples:"I am the true vine, and my Father is the vine grower.
He takes away every branch in me that does not bear fruit,and every one that does he prunes so that it bears more fruit.You are already pruned because of the word that I spoke to you.Remain in me, as I remain in you.Just as a branch cannot bear fruit on its ownunless it remains on the vine,so neither can you unless you remain in me.I am the vine, you are the branches.Whoever remains in me and I in him will bear much fruit,because without me you can do nothing.Anyone who does not remain in mewill be thrown out like a branch and wither;people will gather them and throw them into a fireand they will be burned.If you remain in me and my words remain in you,ask for whatever you want and it will be done for you.By this is my Father glorified,that you bear much fruit and become my disciples."
When I was a little girl, I had a VHS tape of one of the film versions of Frances Hodgson Burnett's The Secret Garden— the version that begins with an earthquake and an elephant trampling, cholera not being exciting enough. The rest of the story it told pretty faithfully– Mary Lennox, at the same time a neglected child and a spoiled brat, is sent from India to Yorkshire, England to live on her reclusive uncle's estate when her parents are killed. There she meets her cousin Colin, who has been confined to bed since his infancy, never goes outside for fear of germs, is expected to die at any minute, and believes he cannot walk. Mary discovers her deceased aunt's beloved garden, walled off and fallen into disrepair; with the help of a local boy named Dickon, she brings the garden back to life– and, in doing so, ends up curing her uncle's grief and Colin's hypochondria. Put so simply, it sounds ridiculous, and I suppose it is– but watching the film or reading the book is a remarkable experience. There's a reason that The Secret Garden is such a well-known children's novel and has been dramatized so many times. It's a truly beautiful telling of a rather implausible story, a parable about the resurrection.
My siblings and I watched that tape until it was dust. I can still recite most of the dialogue from memory. We used to act it out, taking turns playing the different roles– most often one brother would put on a dress to be Mary, while another sat in bed whining to be Colin. My sister played all the minor roles; the baby played the animals. I usually played the servants, Mrs. Medlock and Martha, because I was the best at imitating a Yorkshire accent. We'd call our parents in to watch the play, then inevitably break down quarreling about halfway through and announce we'd finish it later. I don't think we ever did. I can't even say why we appreciated it so much; it just struck our imagination.
In particular, one little moment in the film fascinated me, and still does.
In winter, Mary informs Dickon that she's been inside the locked walls of the garden– "but maybe it's all dead, anyway. I don't know."
Dickon responds with a smile. "I know."
After giving Mary his promise that he won't tell anyone she's been in the garden, Dickon follows her there. She shows him the tangled and neglected rosebushes– every one of gray and lifeless as a pile of sticks.
Dickon cuts off a little bark from one of the sticks with his penknife, revealing a flash of green underneath all the gray. "See? It's wick."
"Wick," repeats Mary, looking at the green. "What's wick?"
"Alive. It's all alive. There'll be so many roses here, Miss Mary. You'll be sick of 'em."
And, of course, Dickon turns out to be right. The garden is alive, and with a little help it grows abundant roses of every color. Dickon and Mary take Colin to the garden in his old-fashioned wheelchair, and before long Colin is also returning to life, walking around and playing with them. The three children use the secret garden as the stage for acting out a magic ritual Mary once witnessed in India, intended to bring peace to Colin's father, and sure enough it works– Lord Craven returns to the manor and the garden to find that his son has been healed. Everything returns to life when the vines that seemed dead return to life, and bear abundant roses.
That's all I can think of when I hear the Gospel about Christ the Vine for this Sunday– not grape vines, but roses. Not a vineyard in the Middle East, but a Victorian garden outside a creepy old mansion in Yorkshire. Not servants, but nosy Victorian children tending the garden.
Here is Christ the True Vine, dried up and lifeless behind the locked walls of an abandoned garden. Here are we, His Church, branches clamoring off the vine every which way, a tangled thorny mess of old twigs. All who see us scoff and count us as dead. We who put our trust in Christ appear to be fools. There's nothing to be had here– no life, no leaves, no flowers and certainly no fruit. Our life's work is worthless. We allowed ourselves to be grafted to the True Vine and now the True Vine appears to have failed us. The garden is ruined, and all our hope appears to be lost.
Take courage. The branch is not dead; it's wick. It's alive, all alive. Do not despair and separate yourself from the Vine. Permit yourself to feel dead but a little longer, and you'll see.
Here come those annoying, bratty children, the servants of God, pruning the vines. And now here comes the spring sun, slowly warming the soil. Here come the rains. The roots drink. The sap flows through the Vine into all of His branches, and we are nourished. Leaves open, taking in the light. Buds form, flowers bloom, and there are roses. So many roses that you'll be sick of them. So many roses that dying children will regain their strength. So many roses that the hearts of grieving fathers will be turned to their children again. So many roses that nothing is impossible, magic is real, and everything that's lost can return to life.
I suppose it's a ridiculous story, and who could believe it? But the Lord said it, so I do.
(image via Pixabay)