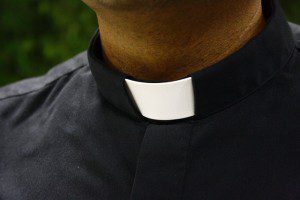 Many of you are no doubt aware that Donald Trump gave a speech that was more or less an hour-long stream of consciousness in Montana yesterday, at a rally for Republican Senatorial candidate Matt Rosendale. The speech featured jokes at the expense of rape survivors in the "Me Too" movement, jokes at the expense of minorities, and paranoid defenses of his "zero tolerance" immigration policy that the United States' Catholic bishops have condemned.
Perhaps many of you have also seen the multiple photographs of a group of about four Catholic priests, dressed in their blacks and Roman collars, seated directly behind the president and applauding.   You can see a close-up photo here.  In other photos they appear to be wearing VIP badges, which leads one to believe they were seated in front of the camera on purpose.
These priests are said to be from the Dioceses of Great Falls-Billings, Montanta and of Helena. Those who have been identified are said to be Fr. Ryan Erlenbush, Fr. Garrett Nelson and Fr. Chris Lebsock. In my opinion they created a scandal by standing there and applauding as they did.
The Catechism defines scandal as "an attitude or behavior that leads others to do evil." If a person deliberately act in a way that leads others to think a sin is fun, funny or otherwise admirable, he sins himself by committing scandal and tempting others to sin. It's an especially grave responsibility for priests to not commit scandal because they represent the Church so visibly. Priests standing in front of a camera being broadcast to the whole country while wearing their Roman collars are under still more pressure. Thousands of Catholics will see those priests and take their example to heart; thousands of non-believers will see them and presume that they represent the Church and are doing what the Church would do.
The USCCB has stated that Donald Trump's "zero tolerance" immigration policy is "immoral" and are considering canonical penalties for anyone who participates in it. This isn't something that Catholics can be on the fence about. And when the president joked and ranted about the danger those immigrants supposedly pose to Americans, mocked people protesting on their behalf, and so forth, the priests clapped and laughed– signalling to anyone who holds them in authority that this is an okay matter to laugh about and the president is worthy of applause when he belittles the situation.  I couldn't believe this so I watched the speech through, fast forwarding  it in places, with my eyes on the priests the whole time, double checking at certain points, and those priests stood there smiling, laughing and applauding virtually every time the president paused for breath. They did nothing to signal disapproval of anything he said. They particularly burst out laughing when the president mocked the IQ of Maxine Waters because she'd dared to disapprove of the zero tolerance policy. They were having a grand old time. They applauded the president no matter what came out of his mouth.
This is not about political parties or whether you like President Trump. This sort of behavior is wrong no matter who's cracking the jokes. I dislike Hillary Clinton for many reasons. If Clinton had won the election and showed up at a rally like this making jokes dismissing the gravity of, say, abortion or birth control, and priests sat there applauding and laughing, I would say that those priests created scandal as well. I would say it if they laughed and applauded at such jokes coming from a third-party candidate. I would say the same if they remained at some kind of televised priests' conference not to do with politics, and sat on camera applauding while a fellow priest ran his mouth like this. It doesn't matter what your politics are; sin remains sin.
I don't know why those priests were sitting in front of the camera in their Roman collars in the first place. It could be that they didn't realize where they'd be sitting, and they would've worn civilian clothes and kept a low profile if they'd known. It could be they were taken advantage of by the people who organized the event and had no idea they'd be in a public spectacle. None of this really matters. The fact is, when they realized they were on camera and representing the Church in such a public way, they had a responsibility. When the president said something that was wrong, they had a duty not to approve. They could have walked out. They could have shaken their heads, frowned  or given some other sign of disapproval – instead they choose to applaud, laugh, and listen attentively to his every word. That's scandal. That has to be condemned.
If you would like to express your disgust at these priests' actions, you may contact the diocese of Great Falls-Billings here, and the diocese of Helena here.
(image via Pixabay)