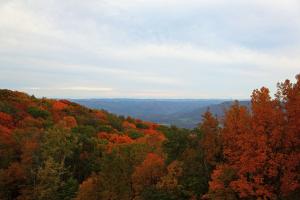 My people came from West Virginia.
They had a farm in Greenbriar County.
That won't help anyone who doesn't know West Virginia well.
If you flipped someone off with your left hand, but with your thumb and half your pointer as well as your middle finger extended, you'd have made a good map of West Virginia. My friend Ryan uses this method to show people where he lives; I've seen it online as well. The state got its funny, ill-mannered shape from the course the Ohio River takes, and from the Civil War. The top knuckle of the middle finger is the derelict steel mill town of Weirton, just across the river from where I live now, where anything can happen. Wheeling, which counts as a big city around here, is down near the knuckle. Martinsburg is in the thumbnail. Charleston, the capital, is halfway down the hand between the thick white ligaments of the middle and ring finger. Beckley is nearly at the wrist. Greenbrier County is the wad of fat and muscle at the the base of the thumb. My people came from Ireland and Wales, and settled in the wad of fat and muscle at the base of West Virginia's thumb.
There isn't much there but mountains– not that that isn't enough. The mountains are a world of their own. I remember being shocked when my grandfather showed me a photo from his trip to the Alps, which are bare and gray with white on top. That's not what the word "mountains" means. Mountains are supposed to be green, with a gash cut up through the trees for the power lines and a corkscrew of a country road winding up to the top. At the top, there's a Scenic Lookout and a plaque commemorating a civil war battle. Down at the bottom, there's a grocery store with limited selection, two gas pumps out front and a couple of houses. This is what I've always known mountains to be.
My ancestors had a farm in those mountains. They gave a corner of that farm to build a small Catholic church– such a rarity, at the time, in the wad of muscle at the base of West Virginia's thumb, that the road running by it was named "Catholic Church Road," and still is. I went to Mass there, one Saturday morning in August. The locals invited me to their weekly picnic afterwards, in the backyard of one of the churchgoers– a massive spread of homemade fried chicken with every conceivable side dish and some I've never heard of. If you're ever invited to a picnic in Southern West Virginia, you should accept. And you should eat the baked noodles.
These people were pretty well off; they had a lovely house on a farm. There are a lot of well-off places in West Virginia. Once my grandparents treated all their children and grandchildren to a weekend at a posh resort, out there in Greenbriar County. There was a spa, a glorious restaurant, a gigantic pool with a swim-up bar where I drank strawberry daiquiris in my bathing suit.
But a lot of people in West Virginia aren't nearly that lucky. Most people know there's poverty there, in the abstract. They make jokes about poor white trash, trailers on cement blocks, log cabins and outhouses. But I don't think many people know the extent. The poverty can be well beyond anything you'd think was normal outside of a third-world country.
During the Elk River water crisis, when a chemical leak sickened people in nine counties, the government delivered emergency water supplies to Charleston for distribution. This didn't do much to help people who were trapped out in the rural areas without a car, or without gas money to drive into Charleston and bring back drinking water. My friend Ryan spent that long week driving back and forth to every store that carried bottled water, cleaning wipes and paper plates, trying to help his poor rural friends. He knew multiple pregnant women stranded with nothing to drink except what he brought for days– and at least their water crisis was temporary. There are people in West Virginia who regularly lack a clean source of water. The water coming out of the tap is opaque and can't be swallowed, but you still have to pay your wastewater bill every month.
There's a town I know of where the cancer rate is four times the national average, they all realize it's due to chemical dumps from local industries, but they can't afford to move away.
I could show you a place where there's been a coal fire burning underground for years, and every once in awhile it comes to the surface.
Then again, I could show you a forest in West Virginia that seems to go on forever; you could get lost in there for weeks. You wouldn't believe me if I told you it wasn't old growth. It's a place that was clear-cut by loggers, a gray desert of dead stumps, and then grew up into a forest again. It is the most beautiful place I've ever been, a natural cathedral to the Resurrection. I've never prayed more deeply than when I hiked among those trees.
This isn't what I meant to tell you, when I started writing about West Virginia.
I started this blog post a month ago, to try to give a few words about the pipeline explosion in Moundsville. The one where they kept saying nobody was hurt and trying not to make it into a big news story, when a column of fire exploded into the sky and could be seen for miles. The people who built that pipeline kept assuring everyone it was safe, but I don't think anyone believed them.
There was a massive fiery explosion big enough to be seen for miles right here in the United States of America, and nobody really noticed. It's been a busy summer for news. We can't possibly write about everything.
I think that that's the best way I can describe to you, what West Virginia is. It's a place where there can be a gigantic explosion from an industrial accident, and it will not be very big news. At least no one was hurt. Industries of various kinds have been endangering lives, killing people and destroying the land with their antics there for over a century and they're not going to stop.
It's an industrial wasteland of cancer and toxic ash, where fires burn under the ground, and it's also a paradise of trees.
You can drink strawberry daiquiri in a pristine swimming pool there, if you've got the money. But you mustn't drink the tap water because they can't always afford to keep it clean.
It's a state shaped like the back of your left hand.
It's a place where anything can happen, and some of the things that happen are terrible, and some terrible things have gone on for so long that they seem normal.
You could say that about anywhere, of course.
My people came from West Virginia.
(Image via Pixabay)