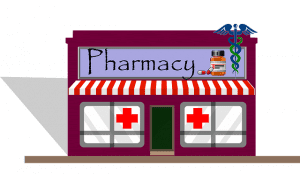 To Donovan W. Pepper
National Director, Local Government Relations
Walgreen Co.
104 Wilmat Rd, MS# 1415
Deerfield, Illinois
60015
Dear Sir:
As a frequent customer of Walgreens, I would like to express my horror at your intention to close the Rite Aid in downtown Steubenville, leaving nothing in its place.
It came to my attention last week that your company had bought Rite Aid, and was planning to close the Rite Aid location at 138 North Fifth Street, Steubenville, Ohio. I take it that you do not realize how essential a pharmacy in that location is to the residents living downtown, and how catastrophic it would be for them if that pharmacy were simply taken away. Walgreens has announced that any prescriptions held by that pharmacy will be transferred to the Walgreens location on Sunset Boulevard when the pharmacy shuts down on August 23rd, and that the store will close soon after. This may not seem like an enormous change to you. After all, it's only one and a half miles away. Let me explain why this would make the location impossible to get to for many vulnerable customers.
Steubenville is built in a valley, on either side of some considerably steep cliffs overlooking the Ohio River. Between the Brady Estates neighborhood, where the Walgreens is located, and downtown Steubenville, there is a cliff that can only be traveled by taking a car down Sunset Boulevard or by a strenuous hike up a flight of concrete steps that is no longer officially maintained by the city. The walk is dangerous and time-consuming for anyone, and it is impossible for people with disabilities that affect their mobility– far moreso than you would imagine for a walk of less than two miles. The drive is relatively simple, for customers with their own transportation. Those who don't have transportation rely on the local bus service, which is inexpensive but not free, and which runs on a considerably limited schedule. There are only two different routes in town where a bus goes from downtown past that Walgreens. Between the hours of 9AM and 2PM,  there are only two buses on each route and between the hours of three and and five o'clock in the afternoon, that number goes down to only one– only one trip per hour. And after five fifteen, there's no bus at all until the next morning. And that's only true five days a week– weekends are far worse. Anyone who takes the bus from downtown to the Brady Estates Walgreens runs a considerable risk of being trapped there for the night or longer.
Steubenville is an economically impoverished town. This is especially true of the downtown area. Downtown is home to the public housing projects and the low-income nursing homes; many poor people on Section Eight also live in the houses and apartments there. A considerable number of them are disabled. Many people downtown lack their own vehicle to drive to the Brady Estates neighborhood, and many are too disabled to walk long distances. Taking the bus to Walgreens is also quite difficult due to their limited schedule.
Right now, Rite Aid is the only pharmacy downtown, the only pharmacy that's reasonable to get to for a huge number of Downtown's residents. It is also the only place to buy groceries, besides a very limited selection of junk food at the gas station. The rite aid is not a perfect solution to not having a grocery store, but it does have a much wider selection of food than the gas station and several healthier choices. There is no real grocery store in downtown Steubenville; the last one closed years ago. People living downtown rely on the Fifth Street Rite Aid not only for their lifesaving prescription medication, but also for food and toiletries they can't get anywhere else.
Every time I shop at the Wallgreen's on Sunset Boulevard, your friendly cashiers thank me and say "Be well." That's a catch phrase and a greeting I've come to like very much. I know you are committed to making your customers well. But the residents of downtown Steubenville will not be well if there is no longer a pharmacy and a place to buy groceries on Fifth Street. If that Rite Aid closes, it won't be replaced by the Brady Estates Walgreens. The people who rely on that store for food, toiletries and lifesaving medications will have their lifeline cut off and they will suffer immensely. It's not out of the question that someone might die. In your line of work, I'm sure you appreciate the importance of getting prescriptions fulfilled in a timely manner, to say nothing of having enough to eat.
I ask you to reconsider your decision to close the Rite Aid on fifth street in downtown Steubenville, rather than replacing it with a new Walgreens location instead. Your generous attention to this matter may well avert a crisis.
Sincerely Yours,
Mary Pezzulo
I ask my readers to join me in writing to Walgreens about this matter at the address I've provided above. Also, any Steubenville residents that will be attending First Fridays on Fourth on August 3rd should be aware that The Friendship Room is circulating a petition asking Walgreens not to close the pharmacy. I ask that everyone in attendance sign.