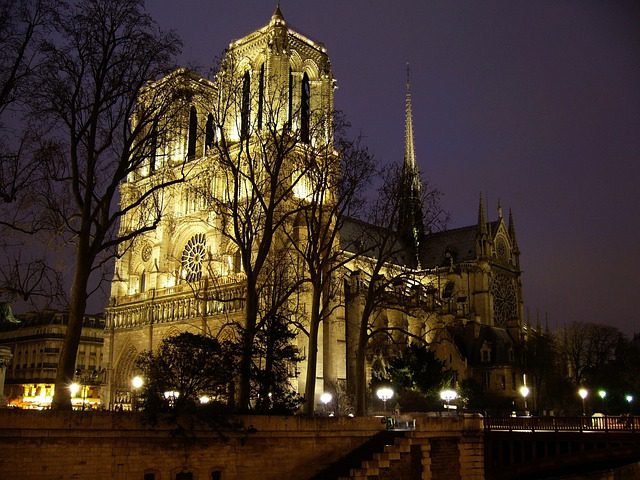 We are all still mourning the tragic fire at Notre Dame cathedral, and justly so. This is a trauma for the whole world. Thankfully, though, the building is still standing. She is more or less structurally sound. I am amazed at the photos I've seen this morning– the rose window is still intact, most of the interior is intact, the relics were saved. I've even seen photos of the statues that used to be on the spire and roof, the only part of the building that's a total loss– neatly decapitated from their tumble, but with the barely damaged heads standing next to them. They can be restored, and Paris is a very good city to find an expert art restorer. We ought to be extremely grateful that it wasn't a thousand times worse. Notre Dame is still there. She will be repaired. It will take time and be difficult, but she's still there.

Donations are pouring in to aid the rebuilding–and again, justly so. I'm very glad to hear of it. I'd like to chip in some of my own money if I can later this week. But please remember that Notre Dame is owned by the French government and is a huge tourist attraction for them– and less than 24 hours after the fire, she's already garnered hundreds of millions of Euros in donations for the restoration. She will be rebuilt, and lack of funding will likely not be a problem.
So whether or not you donate to Notre Dame's restoration– and again, I'd never in a million years say you shouldn't– I'd like to remind you of a few things.
First of all, I just read the most heart-wrenching quote from an attorney named Casey Douma, posted publicly on Facebook: "The concern and dismay is being felt by many around the world. Now imagine that the damage to this historic and religious site was caused by a pipeline running through it, by fracking, or due to development. This shock and dismay is the type of feeling Indigenous people feel when our lands and sacred sites are damaged or threatened."
Perhaps, in solidarity and empathy, we could support our Native American brothers and sisters today. The Pine Ridge Reservation, for example, is the poorest county in the United States. We should at minimum keep them in our prayers, and if you'd like to help them financially, I suggest you donate directly to the Ogala Sioux here. There are a huge number of fake Native American "charities" that make a pretty penny off of pretending to help Native Americans, so be careful who else you donate to.
Also: remember that three historically black churches were burned down by an arsonist in St. Landry parish, Louisiana. They're not nearly as famous and don't have billionaire cosmetic company CEOs pouring hundreds of thousands of Euros into them. They're going to have a much harder time rebuilding. If you'd like to remember them as you mourn for Notre Dame, you can find information on how to donate by mail or through a gofundme here.
We all want to express our love and grief for Notre Dame today, and that's not wrong in the least. But remember that Notre Dame de Paris Cathedral was build in honor of the real Notre Dame, Our Lady, and the best way to honor her is to honor her Magnificat by filling the hungry with good things and exalting those who have been brought low. These are just a couple of suggestions as to how.
(image via Pixabay)