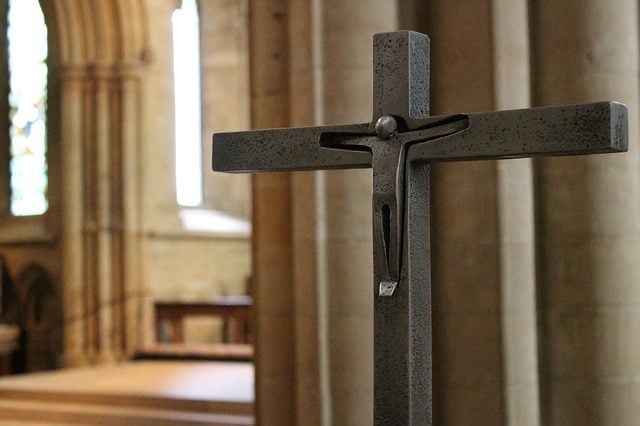 I am surprised that I had to write about the Diocese of Buffalo again so soon.
But I have to put in another word for the seminarians who blew the whistle on sexual harassment by priests there.
I have just read, in a report by Buffalo's ABC 7 Eyewitness News, that these seminarians are now being subjected to a "leak investigation." They are being interrogated to find out who "leaked" the story to the press, by the very official to whom they reported their sexual harassment, and by the rector of Christ the King seminary, Rev. John Staak, OMI. Some sources at the seminary have denied this, as well they might. The sexual harassment that took place at the party was also denied by some at first. But multiple sources who spoke to ABC 7 anonymously because they fear retribution say a "crackdown" on the seminarians is happening right now.
I think this puts an end to any question of whether the seminarians are telling the truth. If the seminary doubted the students' story, they would be investigating a slander or libel, not a "leak." A "leak" is when true information you'd like to remain secret becomes public.
To review, for anyone just joining us: a group of seminarians, speaking on condition of anonymity, reported that they were subjected to pornographic sexual harassing conversation at a party at Saints Peter and Paul Church rectory on April 11th. Three priests described their parishioners' sex, they described what sounded like oral and anal sexual abuse of seminarians in the dorms that had never been reported, they repeatedly jokingly asked the seminarians to have sex with a woman of their acquaintance. You can read the report of what was said to them in the ABC news article I linked; I also summarized it in my previous blog post. This report led to the suspension of three priests: Rev. Art Mattulke, Rev. Robert Orlowski and Rev. Patrick O'Keefe. People who worked at the seminary, also speaking anonymously, confirmed that these priests were "very corrupt" and that seminarians felt afraid to step forward. Then, the report was released to the press by an anonymous informant. The Diocese of Buffalo declared through a spokeswoman that they hope the suspended priests who behaved so atrociously return to active ministry.
I am sure that somebody's going to bring up the sin of gossip. Wouldn't it be better to report these priests to the authorities and NOT go to the news about it? But let me remind you: "gossip" refers to spreading stories for the purpose of ruining reputations, when these stories are not the public's business. It has never referred to spreading the truth about a corrupt institution in order to keep the public safe. And the public is not safe while this level of corruption exists in our dioceses and seminaries. Remember, the Diocese of Buffalo said they hoped to return those three prurient, harassing, bully priests to active ministry after a short time. They could have been put right back into the parishes, with access to the laity and our children. They still might be. Things at the seminary could have gone on exactly as they are now, with a short break. They might still go on exactly as they are now, with the corruption and abuse unchecked. This represents a huge danger to our church, to future generations of priests, and to anybody Fathers Mattulke, Orlowski and O'Keefe have contact with.
And now, Christ the King Seminary is allegedly trying to punish the whistle-blowers. This has been reported to the news by several people who are so afraid for their safety, they don't dare say their names. And at this time, the diocese refuses to comment.
This is happening right now, before our very eyes. I would wager that this exact kind of silencing and punishing of the victims of sexual harassment has happened behind closed doors at Catholic institutions too many times to count. Think of what happened at Franciscan University. Think of Christendom College. Think of the Pennsylvania Grand Jury Report. But this time we get to see it playing out before our eyes, thanks to ABC 7 and these brave seminarians.
The last time I wrote about this topic, I advised my readers to cry out with a thousand tongues.
This time, I think we'll need at least two thousand.
Please don't let this story die. We cannot afford to give the diocese or the seminary any peace while there's a danger that they will punish whistle-blowers and refuse to reform. We must keep demanding that Mattulke, Orlowski and O'Keefe are permanently suspended. We must demand that the seminarians who "leaked" to the press receive no retaliation whatsoever. We must also demand a thorough investigation and radical reform of Christ the King Seminary. We can't just take their word for it when they were employing such corrupt priests in the first place. I strongly recommend that any of my readers in the Diocese of Buffalo withhold any charitable donations to the diocese and the seminary until this is settled, and I advise you to tell them so. You can reach the diocese of Buffalo at 716-847-8700. You can contact Christ the King seminary at 716-652-8900.
No one deserves to be punished for reporting a danger to the public. These seminarians are to be commended, and they must be protected from further harm.
(image via Pixabay)
(5/5/2019 update: I mistakenly wrote earlier that the seminarians went to the police; they actually went to authorities at the seminary. It was from there that the report was "leaked" to the news.)