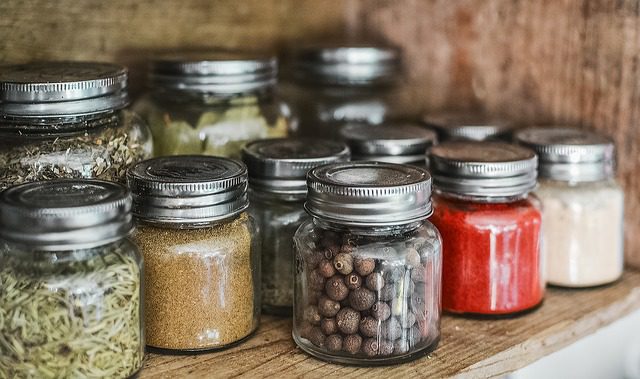 The Friendship Room's new Little Free Grocery is going wonderfully. Every time I walk by, it's at least half full with shelf-stable food and toiletries. Generous people drop them off as they walk by. And Molly says that hungry people are taking what they need home and using it on a daily basis– hardly anything stays in very long.
When I looked inside the other day, I saw all kinds of good things: in the toiletry section there was body wash and sanitary pads; in the food section there were Spaghetti-O's, pancake mix, packages of instant mac and cheese and all kinds of things. I saw something from each food group. I also saw at least ten cans of jellied cranberry sauce, which made me smile. Cranberry sauce is delicious.
It got me thinking about ways to be extra helpful.
I tried to make a list of as many appetizing meals as I could think of, that were made entirely of relatively cheap shelf-stable groceries, so I could drop off a whole meal at once. All kinds of random different grocery items are also very good to have on hand, but sometimes a person might have absolutely nothing in the house and desperately need an entire meal. If the whole thing is waiting for them in the Little Free Grocery, they won't have to beg for any extra ingredients. They can just take it home and cook it.
I brainstormed all the meals I could think of that only involved shelf-stable cans and boxes, and then I got online and asked my friends for suggestions. I ended up with a fun list– some fancy things for people with a lot of cooking skills and some simple things for people who don't have a lot of time or training.  Some have meat and some are vegetarian; some are spicy and some are not. It's important not to stereotype poor people: plenty of people of limited means are good cooks and plenty aren't; plenty have dietary restrictions for ethical or health reasons; some poor people like spicy food and some don't. When I bring a donation to the Little Free Grocery, I'm going to try to bring all the cans and boxes necessary to make one meal, so somebody can get everything they need in one stop.
I thought maybe my readers would like to play along too– we can make a nice long shopping list of useful combinations of things to give to a food pantry, or a "blessing box" or little free grocery in your area, so none of us runs out of ideas. I can't afford to fill the pantry myself, but I'm going to commit to bringing at least one of these meals every month:
–Zatarain's or Rice a Roni, can of chicken, can of green beans (or other veg).
–A good nourishing cereal like Kashi and a box of almond milk.
–A box of noodles, a nicer jar or can of pasta sauce, and a can of Parmesan.
–Rice + curry paste + tomato purée + coconut flakes. (It's better with coconut milk, but flakes are much cheaper.)
–Tuna helper, a can of milk and two cans of tuna. This might work with canned chicken and chicken helper as well, or even hamburger helper and canned ground beef.
–Nice hearty bread, peanut butter, and jam.
— Coronation chicken salad: can of chicken, mayo, curry powder, raisins, bread.
–Can of chicken, gravy packet or jar of gravy, box of Stove Top, can of green beans, instant mashed potatoes, and cranberry sauce.
— Can of chicken, bbq sauce, buns, veggie.
— Canned ground beef, sloppy joe sauce, buns, veggie.
–Canned ground beef, taco seasoning, taco shells or tortillas, jar of salsa, can of pinto beans or refried beans.
–Bagels, cans of tuna, jar of mayo, and relish or whatever other seasonings you put in your tuna salad.
–Shelf stable tofu or can of chicken, one of those Thai sauces from Aldi, rice, canned carrots or greens.
–Pasta puttanesca: olive oil, canned tomatoes, canned anchovies, jarred capers, garlic, and pasta.
–Spaghetti Marco Polo, more or less: spaghetti, two cans of tuna in oil, a can or jar of black olives, onion powder, Parmesan.
–For an Indian lentil dish: Canned lentils, good curry powder, salt, canned diced tomatoes, garlic powder, onion powder, lemon juice, rice. Canned spinach optional.
–Chicken broth carton, chickpeas can, diced tomatoes can, two cans of chicken, optional: pasta or couscous. With a few seasonings this makes soup; I used curry powder, cayenne and cinnamon.
–Black beans, corn, diced tomatoes, canned mushrooms, chilli powder. Bonus: this can be done with the creamed corn.
–Canned meatballs, tomatoes puree, canned pumpkin, jerk seasoning and rice.
–Tinned shrimp, tinned pineapple, coconut milk, dried deep-fried onions, yellow curry paste or curry powder, rice.
–Tinned tomato sauce with beef; canned corn, carrots, green beans, and/or mushrooms; boxed mashed potatoes. Worcestershire sauce. I think that could make a decent cottage pie.
–Tinned tuna and rice. Especially those instant rice cup that you zap for a minute in the microwave, I bring that for lunches at work all the time.
 –Tuna casserole: canned tuna, bag of egg noodles, cream of chicken soup, canned peas, crumbled up potato chips or those crunchy dry onion things.
–Hummus on crackers: Crackers. Chick peas. Garlic. Lemon juice. Oil (ideally olive). Tahini if you can get it, but if not it's still good without. The advantage to this one is that you can do it with a fork if necessary and it's no-cook.
–We make tuna casserole with mac and cheese, a can of tuna, and a can of cream of mushroom soup.
–Chilli-bean roll ups: a large tin of kidney beans, a small tin of crushed tomatoes, a tin of refried beans, a can of corn and a few jalapeños, with a package of tortillas.
–2 boxes of veggie or chicken broth, 2 bags of rice.
–2 cans of black beans, one large jar of salsa.
–A box of instant Alfredo noodles and a can of chicken.
–Canned clam chowder and oyster crackers.
Feel free to add your own in the comments!
(image via Pixabay)