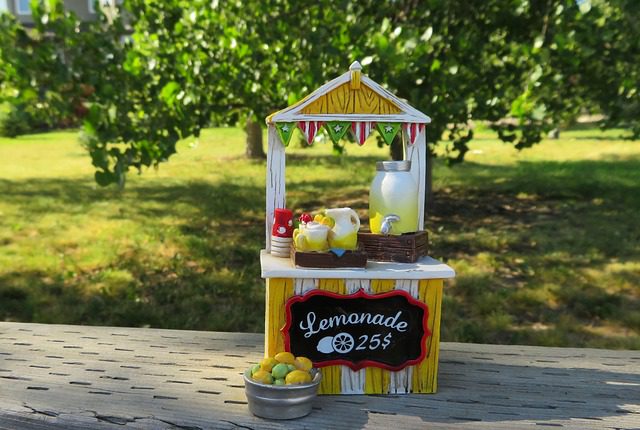 I just saw the most brilliant idea for a quick way you can help the migrants imprisoned at the Southern border by supporting one of my favorite charities, Immigrant Families Together. Immigrant Families Together is a charity that works fast to pay the bond for migrants trapped in those inhumane prisons, one prisoner at a time. Then they provide that person with legal representation for their asylum hearing, and pays for their housing, medical care, food and other needs until they're given a green card and are able to work here legally. 100% of a donation to Immigrant Families Together goes to help the migrants, because everyone who works for the charity is a volunteer.
And I've found out that they're holding a Lemonade Challenge to raise money over the summer.
Immigrant Families Together is asking people to set up lemonade stands selling drinks for suggested donations. On their website, they have suggestions for getting your children involved and excited to help; they also have signs you can download. You might consider expanding the lemonade stand into a bake sale, an art sale or anything else you can put together–as soon as I heard the idea I envisioned a parish community might take this as an excuse to hold a big rummage sale. And keep in mind that if your customers don't have cash on hand or want to give a large amount, Immigrant Families Together also takes donations through Venmo, Paypal and their Gofundme. Post a photograph of your lemonade stand on socialmedia and tag your friends, using @ImmFamTogether and #IFTlemonadechallenge.
If you can't organize a sale, you can make a donation, photograph yourself sucking a lemon, and post it on social media with @ImmFamTogether and #IFTlemonadechallenge, and tag your friends.
Rosie and I will be participating too later this week, and you can be sure I'll post pictures.
If you've heard the cry of the poor, coming from those terrible prisons– if you've seen the photos and read about the squalor and had your heart broken for the people there– here's a way you can help. If you've felt desperate to get even one person out of there– now you can contribute. You can ransom a captive, reunite a family, feed and clothe Christ in the disguise of a migrant. All you need is some sugar and lemons.
Let's all work together and help!