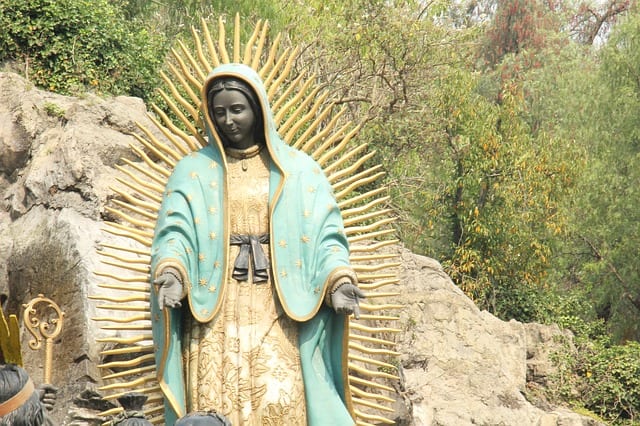 Miriam of Nazareth was not important.
Oh, she was– she was the most important person in the world. But as the world itself sees? Not important. She was female in a world that saw women as property. She was a brown-skinned, dark-haired Middle Eastern Jew in a world run by Roman conquerors from what would someday be Europe. She was the only daughter of Saints Anna and Joachim, in a culture that judged a family's importance partly by how many sons the Lord had granted them. She was nothing and nobody, in the eyes of the world.
She lived in the temple, but she wasn't a priest. She wasn't the priest's wife or daughter. She was a servant, more or less.
She was about old enough to be married– her only chance, in that culture, at becoming somebody important. But she wasn't married yet, and the man that had been arranged to be her husband was just a manual laborer.
Saint Juan Diego wasn't important either.
Oh, he was, but not in the eyes of the world.
Saint Juan Diego was a brown-skinned, dark-haired indigenous man in a world run by conquerors from Europe. As such, he was helpless. Depending on what conquerors he'd encountered first, he might have been murdered at first sight, sold into slavery, put in a cage as a curiosity for somebody's menagerie– this is the kind of thing that happens to brown people conquered by people from Europe. In this case, he got baptized. He had become a Christian, but that didn't make him a European. He was still an Aztec, a conquered person, somebody the world did not see as important. He was poor. He did manual labor for a living. He had a wife, it seems, and we know he had an uncle he loved very much, but we can't point to any notable relatives.
He wasn't doing anything that seemed important, one morning in December. Well, it was; it was the most important thing, but not as the world counts importance. He wasn't going to stage a revolution and overthrow the Spaniards; he wasn't going to write a book, or start a lucrative business. He was just walking to Mass.
Miriam wasn't doing anything important either, not in the world's eyes. She was in the temple, minding her own business, doing the work the important people in the temple had given her to do.
That was when the Angel Gabriel appeared. "Hail, full of Grace."
The angel told her about a plan that didn't make any sense. She, a virgin, was going to give birth to the Son of God and call His Name Jesus, and Jesus would take the throne of her distant ancestor to rule over Jacob forever.
Perhaps she wondered if there was some mistake. She pointed out to the angel that she didn't even have a husband. But God had already thought of that. The Holy Ghost was going to overshadow her and change all of history; all that was needed was her consent. Everything rested on the consent of one unimportant person– God showing His might, scattering the proud in the imagination of their hearts, putting down the mighty from their thrones and exalting the humble, filling the hungry with good things and sending the rich away empty– all of this rested on the "yes" of one woman. The woman was so unimportant that in the eyes of the world, her "yes" was not legally binding. But it mattered to the Lord.
Miriam of Nazareth gave her "yes."
And she revealed herself to be, by the grace of God, the most important person that had ever been born to ordinary, sinful man and woman.
Some time later, Miriam of Nazareth had been assumed into Heaven and honored as Heaven's queen, more honorable than the cherubim and beyond compare more glorious than the seraphim: because none of those angelic beings had borne God inside of them and by her "yes," she had. She was greater than Rome, greater than Earth, greater than angels.
The Good News of her Son was spreading throughout the world, and that was a good thing– but He was also being used as an excuse for unimaginable cruelty by many of the people spreading the message, and this was terrible.
She wanted to become the mother of those indigenous people in the Americas tormented and oppressed by Europeans, the people who looked so much like her. She wanted them to cry out to her so she could give help and be with them in all of their sufferings, no matter what would happen. She was heartbroken that she, and her Son who cast down the mighty from their thrones and exalted the humble, were being held up by the Europeans as an excuse for the horrors of genocide and would be used that way for centuries to come. She wanted to stand with the oppressed all over the world, instead of being represented as some kind of pale and delicate, European queen.
She came up with a plan that didn't make any sense, for a miracle that would be misread and misused by many, as miracles always are– but some would understand, and for their sake she would do it. The plan involved roses in winter, and a cape made of cactus fiber, and a bishop. But she didn't go to the bishop. She didn't visit Europe and explain her plan to the conquering races.
Miriam went to Mexico.
She found an unimportant man who was quite a bit like her.
She waited for him, on the path he was going walk by, on his unimportant trip.
She didn't speak to him in the language of his conquerors, but in his own native tongue.
"Juanito? Dearest Juan Diego. Juanito, my dearest son, where are you going? Know and understand well, you my most humble son, that I am the ever-virgin Holy Mary, Mother of the True God for whom we live, of the Creator of all things, Lord of heaven and the earth. I wish that a temple be erected here quickly, so I may therein exhibit and give all my love, compassion, help, and protection, because I am your merciful mother, to you, and to all the inhabitants on this land and all the rest who love me, invoke and confide in me; listen there to their lamentations, and remedy all their miseries, afflictions and sorrows."
And Juan Diego agreed to help.
And Christian folk throughout the Americas will ever say:
Yochicaui Iya Dzihi Maria, ñuchituudiyaui gracia, Iyoxica Iya n Dios Xihiui, Yodzoca ñayii ñulumi nun udihi nadzihi,
Iyondoo Iyo ii dzáhaya.
Teotl mitz pahcahyohui Maria te temiticah in tlen cuacaultzin in tlacatzintli cah ica tehua huan ica tematzin ticah ica nochi zohuameh huan man ye ica Teotl in xochicualli in moihtic tic pia Jesus.
Ximopaquilti María, teh titemictoc ica mahuiztic. In Toteco yetoc mohuan. Tateochihual tehuatizin intech nochin cihuatzitizin.
Tateochihual in Tapoxhuil den moihtic, Jesús.
Ciciolnen cilich María, chupech ti grazia, Yumilbil yan ta uicual, painum a cicithambilil ichil chuplal tuxiuili painum u
cicthambilil xau a ual Hezuz.
Annaa Channa María he! nachaalo nína zaaca graci bejuannana narüñelo riteetelo quiraali bennigonna chela quellanaxi, ni coxaanalo bejuannana Jesu Crist.
Ate unyanpi, mahpiya ekta nanke cin, Nicaje wakanlapi kta, Nitokiconze hi kta, mahpiya ekta tokel Nitawacin econpi
kin, he iyecel maka akanl econpi kta.
Wari, tekonnoronkwanious, ise tsiati roranerenstakwa, Rawenniio senikwekon, sonhaa tsiui hiakounienstha ne Niio, Jesos oni hetsienha.
Dios te salve, María, llena eres de gracia, el Señor es contigo. Bendita tú eres entre todas las mujeres, y bendito es el fruto de tu vientre, Jesús.
Hail Mary, full of grace, the Lord is with you. Blessed are you among women, and blessed is the fruit of your womb, Jesus. Holy Mary, mother of God, pray for us sinners now, and at the hour of our death, Amen.
Mother of the Americas, comforter of the afflicted, Virgin of Guadalupe, pray for us.
(image via pixabay)
Steel Magnificat operates almost entirely on tips. To tip the author, visit our donate page.