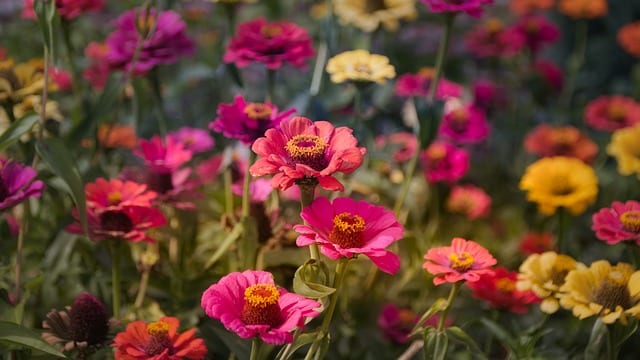 Rosie and I went for a walk.
Michael was out walking too, but he was going further, and Rosie didn't want to walk with him.
This was the second day in a row that Michael had to walk out to the shopping center and back, about a mile each way. Yesterday evening, he walked out with Rosie with his wheeled shopping cart, stocked up on a week's groceries, and then realized he'd forgotten the bank card. He had to sprint back to the house with Rosie huffing and puffing behind. I met him a few blocks from the house with the bank card and walked Rosie home. He ran back, paid for everything, and got it all put away before all the frozen food had gotten more than a little soggy. Then we laughed and had dinner and watched Mass on livestream again. Today, he had to run my paycheck to the bank and deposit it so we wouldn't be overdrawn on what we spent on the groceries. It had arrived just in time.
I don't know when we'll next be able to go shopping at Aldi or Wal Mart in person. They can be reached with InstaCart or something. But you can't InstaCart library books, and I don't know what we'll do about that.
It's too dangerous to take the bus.
Jefferson County is Code Orange with high spread on the governor's COVID-19 risk map. That means we'll be Code Red before very long. Some counties in Ohio are spreading so fast, they'll likely be declared Code Violet, funeral violet, the worst possible case scenario, within few weeks. It's only going to get worse here. And in Steubenville, nobody's observing social distancing on the bus. They couldn't if they wanted to at some times of day, so that's not anybody's fault. But less than half the people wear masks, either. This is Trump Country. People here think they're celebrating freedom and putting trust in God by not masking and not trying to be safe. They sit right behind my head; I can feel them breathing on my hair. Sometimes they cough and I hope it's just for a joke.
The drivers have great faith in the plexiglass barrier that protects them, as if it didn't have a half-inch gap all the way around it, and as if they're not circulating the same air all around the vehicle. And this is all the more remarkable, because the driver I heard talking about the barrier was the one who had COVID-19. This was the personable driver, the one who always comes on time and doesn't yell or insult people. I'd missed him, but I hadn't heard why he was gone until he came back. He'd been suffering at home with the virus for three weeks. He swears he didn't catch it on the bus, because of the plexiglass. It must have been somewhere else.
We're trapped now, until we can get a car of our own, and Lord knows when that will be. So Michael takes long walks, and Rosie and I will take short ones.
We walked up and down the nicer part of LaBelle, in the streets and in the brick-paved alleys. I write a lot about the destruction and mess of Steubenville, but the fact is, LaBelle has some beautiful old houses. With money and taste, you could fix them up to be glorious. Toward the richer part of the neighborhood, they are glorious. We passed by a house that still had soft pink and cream-yellow roses hanging on alive and abundant in the garden, even though all the leaves had fallen off their shade tree. We passed through the alley behind another house that had startlingly bright zinnias in fuscia and orange and scarlet, arranged around their coop of large jet-black hens. That was striking enough to stop me in my stride for a moment. I stared at the hens as if I were visiting the zoo, wishing I'd brought my paint set so I could make a quick composition.
We stared at the front of a worn but serviceable old Sears and Roebuck foursquare that just needed a coat of paint to be beautiful, and then we ducked around the alley to admire the backyard as well. I fell in love with that house in the house-for-sale listings this morning. It's cheap, bigger than ours, and so close we could move with a wheelbarrow if we had to. The monthly property tax would be less than what we pay now for rent. I could rip out the scummy carpets and put in parquet floors. I'd plant a new garden, a clover lawn, and fruit trees. Perhaps we'd get a beagle and chickens of our own. And we'd be rid of the menacing neighbor forever. That's the kind of happy ending I daydream about.
Rosie pointed down the street, to the house that gave away king size Snickers bars last Halloween and asked to go there again on Saturday.
She has her heart set on trick-or-treating, and I want her to. It's not like crowding into a bus where people cough in your hair, after all; trick-or-treating is outdoors. I think we can do it safely, keeping a good distance behind the other trick-or-treaters, wearing our cloth masks behind our costume masks, only going to people who are distributing candy on the lawn instead of knocking on doors, washing our hands thoroughly as soon as we get home. That's what I'd like to do. But I'm still not sure it will be safe. And I don't know if that will be the last good day we have.
Thanksgiving is looking terribly bleak.
Christmas is looking bleak.
And that's just COVID, not everything else. Not the election which I'm told will spark violence and rioting no matter who wins. Not the winter, which my farmer friend warns me will be hard and expensive with all the disruptions in the food supply chains this year.
I don't know how much worse it will get.
I was catechized in the Charismatic Renewal and then in Apparition Culture. We used to believe we knew things. Everyone had a prophecy for everything. Every outlandish event was a portent. Every terrible thing that happened happened for a reason we were sure about: a demonic attack, or God choosing you as His victim and smacking you with a suffering He wanted you to offer up. I don't know which of those I was more afraid of. Some of us expected a great persecution of faithful pro-life Catholic families, where we'd all be called upon to suffer like the martyrs. Some of us expected the Three Days of Darkness, followed by the Era of Peace.
I grew up, and ran away, and became trapped in this terrible valley. I've had a conversion, and because of that, I don't know things anymore. I believe in Christ. I believe in boundless Mercy and perfect Justice. I believe that Christ calls me to be His mercy and justice to others, helping people however I can. I believe that whatever I'll have to suffer, Christ will suffer with me and offer that suffering to the Father as His own. I believe that everything I suffer will be worthwhile in the end. I even believe that miracles can happen– indeed, I believe that they would happen more often if our hearts were purer. As it is, we'd make idols out of them and lose sight of the whole point of things, worshipping signs and wonders instead of loving God through loving one another.
But I don't believe in portents and signs and Charismatic prophecies. I don't believe in apparitions, spooky omens, the Three Days of Darkness. I don't believe that terrible things happen because God or the devil is smiting you, and I don't believe I can prevent catastrophes by performing the correct Novena. And that means I don't know things. I don't know how everything will work out.
Apparition Culture was terrifying. This is also terrifying, for different reasons. I don't have to force myself to believe in such a small, petty god, and that's nice. But on the other hand, I lose that false sense of control. I don't know what's going to happen. And whatever's going to happen, I'm nearly certain I can't make it go away.
I can resolve to be as courageous as I can, and to do as much good as I can, with Christ's help. We should be doing that whether there's a disaster or not.
I can stop and take a nice long look at things worth noticing, like houses, Autumn flowers, and jet-black chickens.
I don't exactly like this new life, in this new world I've discovered. But it's better than the old one.
Image via Pixabay.
Mary Pezzulo is the author of Meditations on the Way of the Cross.
Steel Magnificat operates almost entirely on tips. To tip the author, visit our donate page.