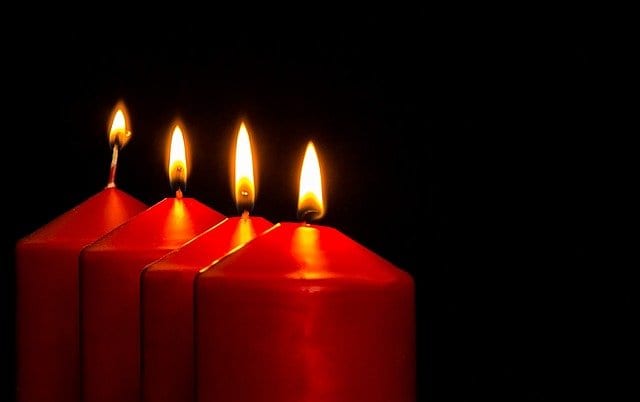 Hello Friends,
Just a couple of notes from Steel Magnificat as we begin Advent for real.
First of all, I am honored to announce that I've been published in The Catholic Herald, and you can read that article here. I'll keep letting you know if they publish any more of my stories of life in of Northern Appalachia.
Secondly, I want to invite you to celebrate Advent with Rosie, Michael and me the same way we celebrated Lent. I will be livestreaming Vespers from my icon corner at 7 PM on Sundays and Wednesdays on the Steel Magnificat Facebook page. I'm also going to try to livestream Vespers on the most important feast days like Saint Andrew's Day tomorrow. I don't know if I will start doing this tonight or tomorrow since my Advent candles haven't come in the mail yet, but if you follow my Facebook page you'll know whenever I'm going live.
Finally, if you're on Twitter, my friends and I are having a series of virtual Advent parties where we watch a filmed version of A Christmas Carol and livetweet it together. You can join us at any time, here's the schedule of our upcoming movies.
I know none of this is the same as being able to go to church and parties like we would during this holy season if there weren't a pandemic. But I wanted to find a way to help people trapped at home have somebody to pray with and also some kind of fun. Thank you all for always being present to Michael, Rosie and me, supporting us with your prayer and your gratuities, and sharing so much of your stories with us along the way.
I hope we can all make it as prayerful and fun of an Advent and Christmas season as we can, even with all this year's challenges.
Image via Wikimedia Commons.
Mary Pezzulo is the author of Meditations on the Way of the Cross.
Steel Magnificat operates almost entirely on tips. To tip the author, visit our donate page.