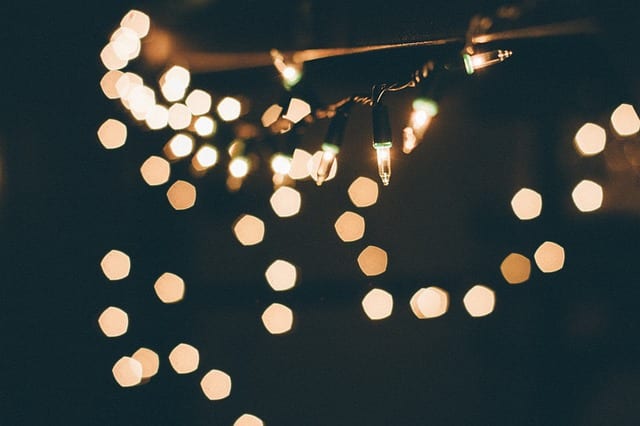 It's raining in LaBelle.
The rain is falling very hard. It started at about two this morning: tak tak tak tak against the plastic we've stapled over the bedroom window to keep us extra warm in winter. Now it's a world of smelly, sloppy puddles outside, even more than LaBelle usually is. Looking outside, you could believe there was going to be a flood that would rise up past the cliffs and wash us all into the polluted waters of the Ohio.
They say it's going to turn to snow. A white Christmas is a rarity in Steubenville, even in the very snowy years, but we just might wake up to one now– several inches of snow over a city-wide ice rink. That would be beautiful. I've never, ever outgrown my fascination with snow.
We're not going to church this evening. I don't think I've ever missed a Christmas Mass in my life before. It's frustrating, because I even found a church I'm fairly confident is being pretty safe and I badly want to go there. But "pretty safe" is always relative in the days of COVID, here in Jefferson County which has been Code Red with high incidence since just after Halloween. Case numbers keep skyrocketing. There were only six deaths of COVID between mid-March and November, but there are 43 and rising today. We don't go anywhere indoors, except grocery shopping and to the doctor. We walk for miles to avoid the bus if we can.
Michael has asthma. That's a huge risk factor in whether the virus will make you miserable or kill you. And as for me, I have two chronic conditions.
Yes, two. I'm famous for struggling with fatigue and fibromyalgia, but just a week ago I got a new diagnosis. The doctor couldn't see my embarrassing facial hair under my mask, but he could see my scalp and how the hair I'm supposed to have is thinning out in gaps. I used to wear scarves and headbands just because I like accessories, but now I wear them to hide the thinness. So when I happened to mention my erratic monthly symptoms that I'm so used to I didn't know they were abnormal, he put two and two together and diagnosed me with PCOS. I'm getting a barrage of tests in the coming weeks to see how bad it is, if the hospitals stay open, but I have the clinical diagnosis based on symptoms already.
If this turns out to be right, it explains why Rosie has never been able to have a sibling and why I have so many false alarms that feel like early pregnancy but come to nothing– something that's been killing me for the longest time. They might be able to do something about it. Maybe. It could be that next year will be better.
Wouldn't it be something, if next year was better?
They're rolling out the COVID vaccine in Steubenville. I have a friend who is a therapist, so she was in the top tier. She's already got hers. Didn't have a reaction or even swell a the injection site. That's one. Soon there will be many people vaccinated. By spring, maybe it will be Michael's and my turn. There might be a vaccine approved for children by then, and Rosie will go back to the classes she loved. She was passionate about the martial arts and a ridiculous class called "Junior Ninja" where she ran through an obstacle course like American Ninja Warrior. Rosie is the kind of child who can only be happy or accomplish anything if she's allowed to have strenuous physical activity on a daily basis. She is never still.
I dreamed about her martial arts class in the wee hours this morning, and woke up on the verge of tears.
This has been a hard, hard year, but next year may be better.
This will be a hard Christmas, without the sacraments, but I might be able to go back to Mass soon.
Maybe even sooner than I can get the COVID vaccine. This was the year I finally swallowed all my fears and got that driver's license. If we can secure a vehicle, we can drive wherever we please. There's currently a travel restriction on the Pennsylvania border, but if COVID cases go back down they may lift it. I could drive to one of the parishes where they're having a parking lot Mass and parking lot confessions. After it's perfectly safe to attend liturgies indoors, I might even drive all the way to Pittsburgh and rediscover Byzantine Catholicism that I loved so much before everything went wrong. Maybe.
Maybe next year will be better.
Can I still believe in a year that's better?
Do I have the faith to go to bed on a dark, cold, noisy, smelly, rainy LaBelle night, and believe that it will turn into pristine snow by morning?
Can I watch my livestream Mass, and make my spiritual communion, and believe that the Child who was born homeless and vulnerable in Bethlehem two thousand years ago will come and be present in me as well, in a hidden manner, because nothing is impossible with God?
Could I profess, even if I can't see or feel that it's true, that God is still loving, that He hasn't abandoned us, that He is coming with the clouds descending to make things right? That, either in this world or the next, there will be beauty and life and the certainty that what we suffered was worth our while?
Could I ponder, along with the Virgin of Nazareth, and treasure these promises in my heart, and trust that someday, somehow, the mighty will be cast down and the rich sent away empty, the hungry filled with good things and the lowly exalted?
That every valley shall be exalted, every mountain and hill made low, the crooked straight, the rough places plain?
Yes, Lord, I believe.
I believe that I will see the Son of Man coming on the clouds of Heaven, and everything that was hidden shall be revealed. I believe it although it seems like madness. And I will hold fast and treasure that madness, along with a much better Mary, until you fulfill your promise.
This madness is why I call my blog "Steel Magnificat." Here in the Steel Valley, in Steubenville where the mills are slowly falling to pieces on the banks of the blood-red ribbon that is the Ohio River, the poor have lost. The air, the water and the soil are still permeated with ashes and rust. The mist smells of sulfur. The mountains hem us in away from the rest of the world. You would have to be out of your mind to believe in anything good.
But even this valley of rust and poison, in the ugliest part of the world, at the darkest time of the year, under a smelly driving rain that couldn't possibly turn to snow by morning– even this valley shall be exalted. Even this rough place shall be made smooth. Even these mountains shall be made low. Our children, my children, Rosie and anyone who comes to join Rosie, the Baker Street Irregulars and the other children in the Valley, shall lead lions and play near the adder's nest. Everything that was hidden will be made plain. The mighty shall be cast down from their thrones and the lowly lifted up, the hungry filled with good things and the rich sent away empty.
And the Glory, the Glory of the of the Lord shall be revealed, and all flesh shall see it together.
And He shall reign forever and ever, Hallelujah, hallelujah, hallelujah.
It's Christmas eve, there's no end of trouble in sight, and it's raining hard in Labelle.
But the rain will turn to snow.
Image via Wikimedia Commons.
Mary Pezzulo is the author of Meditations on the Way of the Cross.
Steel Magnificat operates almost entirely on tips. To tip the author, visit our donate page.